A Supernatural Ballad Cocktail Party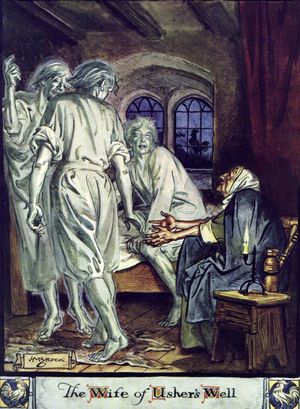 On Halloween, 2020, as part of the Carterhaugh School of Folklore and the Fantastic's Haunted Halloween Extravaganza, I'm presenting "The Night, it Is Gude Halloween: A Supernatural Ballad Cocktail Party." This will consist of me singing and us talking about ballads of the supernatural while we all drink cocktails (or Alcohol-free drinks) inspired by (get this) ballads of the supernatural. The event is from 5:00 to 6:00 pm on Halloween.  Find out all about the event and how to get tickets at this link!
It occurred to me that for folks who are joining us, as well as those deciding whether to join us, it might help for you to have some sense of what supernatural ballads are like and what I'm likely to say about them. Also, I invented a bunch of cocktails for you, but since this event is online I can't make them for you, so I'd better tell you how to make them yourselves!  
That's what this post is all about: I'm giving you some background on supernatural ballads and also my recipes for some supernatural-ballad-themed libations!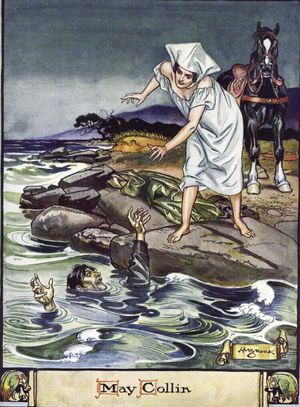 There are many supernatural ballads that I could sing and talk about, but we won't have all night! In fact, there are two great folklorists speaking after me, Kay Turner and Margaret Yocom, followed by a send-off of Victorian ghost stories with Sara Cleto and Brittany Warman--yet more great folklorists! And there's a ton of fantastic programming before me as well, so it's a packed day of scary goodness.
But never fear--or, wait, maybe sometimes fear.  But don't fear that we won't have enough time; there's no need to begin or to end our exploration of these ballads together on Halloween itself. I have been writing about this kind of song for years on the blog Folklife Today!  You are welcome to read these writings before the party, or save them for after; there won't be a quiz! You can read them at the links below: 
Ghost Stories in Song for Halloween 
More Scary Songs for Halloween 
Haunting Songs for Halloween 2020 
And hey, it's not just songs and ballads on Folklife Today!  You can find all of our Halloween coverage from the last seven years at this link—tales and legends, lectures and essays, plus photos and much more! 
Also, you can hear some podcasts in which I talk about some of these songs with other folklorists, at the links below:
Haunting Songs for Halloween 2020 
 Finally, there's one ballad that all Halloween lovers should be familiar with: Tam Lin. (Here's a secret: the Carterhaugh School is named after a location in this very song!) It's a long ballad so I don't plan to sing it at the party, but you can find out all about it, and hear many versions, at the Tam Lin Balladry website.
As a general rule, these cocktails can be made in batches and stored in the fridge so you and your friends don't have to be making cocktails during the Carterhaugh events. For best results, batch up all the ingredients except the juices.  If it's shaken or stirred with ice, strain it off the ice into a mason jar and keep in the fridge. If you think of it, move it to the freezer about half an hour before serving…but it's better to skip this step than to let it freeze!  Right before you serve it (but it's OK to do this a few hours before), squeeze in the right amount of fresh juice for your batch, give it a shake without ice, and serve it out. 
You'll notice I use unusual bitters. Don't worry too much about this; Angostura or Peychaud's will be fine!
The Stolen Bride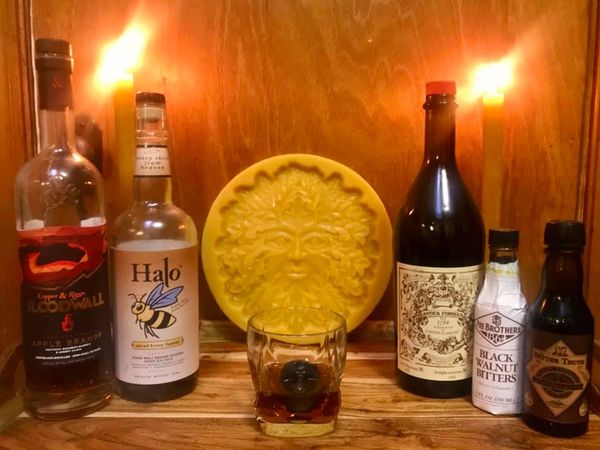 This cocktail is named after an Irish ballad which mentions wine, brandy, and honey, as well as beeswax candles! 
2 oz apple brandy 
1 oz sweet vermouth 
0.5 oz spiced honey liqueur 
1 dash aromatic bitters 
1 dash black walnut bitters 
Stir all ingredients with ice and serve over a large piece of ice or (in this case) a skull-shaped whiskey stone...
The Rescued Bride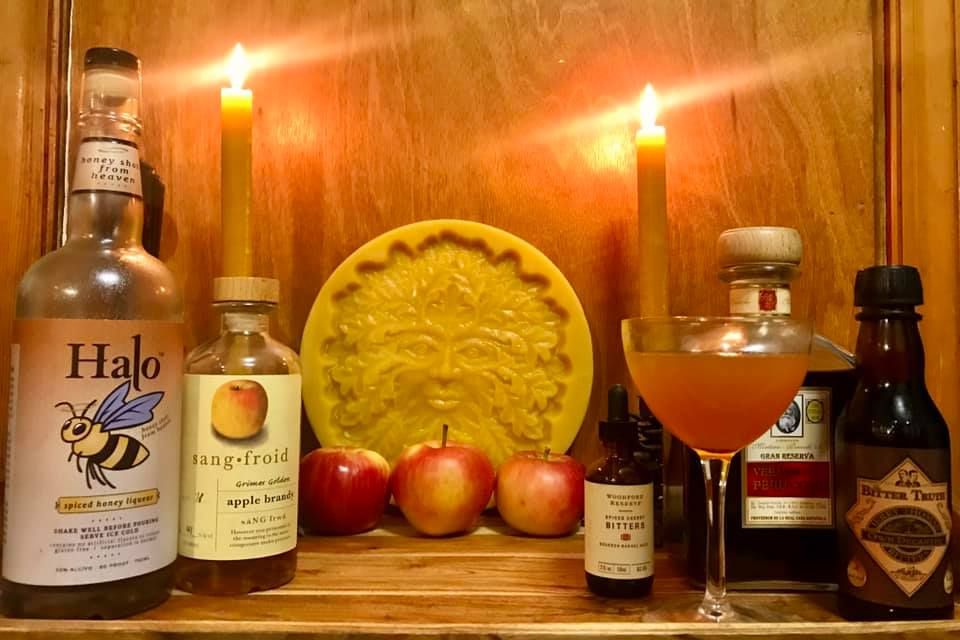 Note: Although I used different brands for a lot of the ingredients, the Rescued Bride is really just The Stolen Bride with added unfiltered apple juice or cider. So You can make a batch of Stolen Brides to keep in a mason jar, and then each guest can decide whether to add the juice!
2 oz. Apple brandy
2 oz unfiltered Apple juice or cider
1 oz sweet vermouth
1 oz spiced honey liqueur
1 dash aromatic bitters
1 dash black walnut bitters

Shake well with ice!
The Sly, Bold Reynardine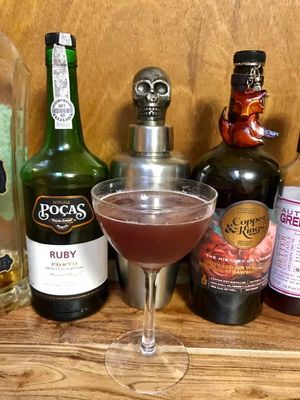 "Her rosy cheeks, her ruby lips
They lost their former dye."
1.5 oz gin 
1 oz ruby port 
0.5 oz elderflower liqueur 
0.5 oz sly, bold grenadine 
0.5 oz lime juice 

A drop or two of rosewater
Or
A dash of rose liqueur or syrup
2 dashes black walnut bitters
Shake all ingredients well with ice and strain into a coupe.
You can garnish with a lime twist or a small leather fox!
Blood in the Kitchen 
"There's blood in the kitchen, there's blood in the hall
There's blood in the parlour where my lady did fall"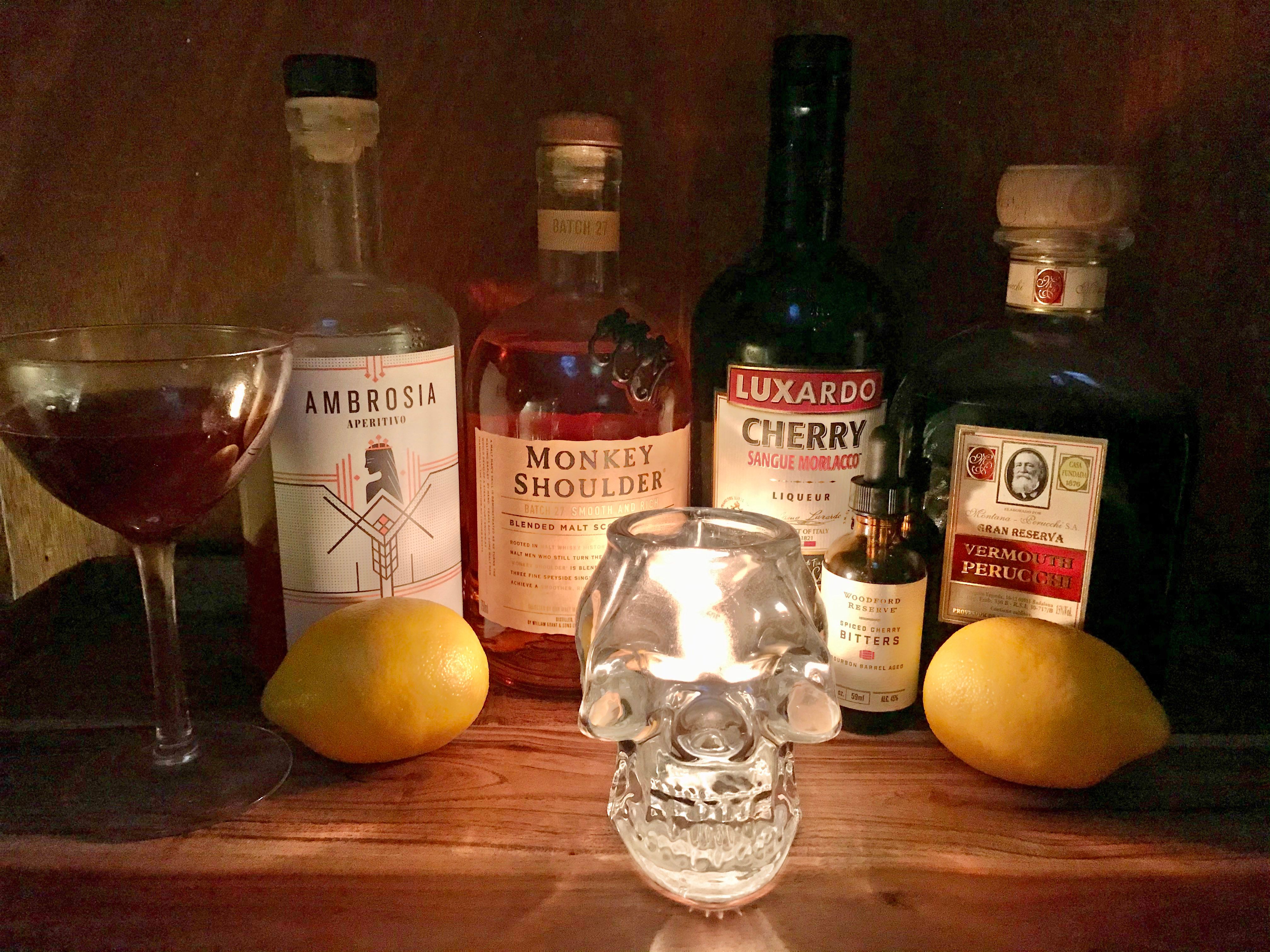 0.75 oz Scotch Whisky 
0.75 oz Luxardo Sangue Morlacco (or any red cherry liqueur) 
0.75 oz sweet vermouth 
0.75 oz red Amaro: (eg Campari, Aperol, Ambrosia) 
0.5 oz lemon juice.