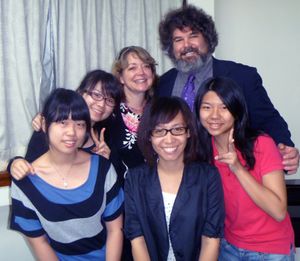 Stephen D. Winick is a folklorist with M.A. and Ph.D. degrees in Folklore and Folklife from the University of Pennsylvania.  He also has a B.A. degree in English, with an emphasis on Middle English, from Columbia University. He works at the American Folklife Center of the Library of Congress as the writer and editor.  Among his responsibilities have been the editorship of the magazine Folklife Center News (2005-2011) and the blog Folklife Today (2013-present).

Steve is an expert on traditional folksong and folk music.  Currently, he is one of the contributing editors to the Grove Dictionary of American Music, 2nd edition. He is the longtime convener (currently senior co-convener) of the Music and Song Section of the American Folklore Society.  He is also an expert on verbal folklore, and has published articles on legends, riddles, folktales, and especially proverbs.  He is particularly fond of folksongs and ballads, which combine his verbal and musical interests.  He has written definitive articles on several songs, including "Reynardine," "The Leaving of Liverpool," and "Kumbaya."   
With his friends Kimberly Lau and Peter Tokofsky, Steve edited What Goes Around Comes Around, a volume of essays about proverbs by prominent folklorists, which was published by Utah State University Press.  Steve also has an article in the book, and co-wrote the introduction.

For five years, Steve was one of the regional folklorists for the state of New Jersey, and the founding director of the Delaware Valley Folklife Center in Camden. In that position he conducted fieldwork and produced public programs, including a concert series. In 2001, he was one of the two main organizers of the first South Jersey Caribbean Festival, an annual event which is still going strong today. He also curated and produced eight successful exhibits of New Jersey folklife, two of which, Tales of the Jersey Devil and Lullaby for Dreamland, toured to other museums.

Steve has taught folklore and literature at the University of Pennsylvania, George Washington University, and George Mason University, and has lectured or moderated panels on folklore, folk music, and other folk traditions at such wide-ranging venues as the Library of Congress, The American Folklore Society, Folk Alliance International, The New York Eisteddfod, The International Robin Hood Studies Association (Powys, Wales), La Grande Rencontre (Montreal, Canada), National Taiwan Normal University (Taipei), FaerieCon, and Mythic Faire.
The photo in the banner was taken by the Library of Congress Gazette.  The photo showing Steve and Jennifer Cutting with Taiwanese students was taken after a lecture Steve gave at National Taiwan Normal University in Taipei.  It was taken by another of the students.