Click image for hi-res jpeg
Upcoming Bawdy Song Shows
Don't Shake Our Hands Until You Know Where They've Been!
Our Bawdy crew has performed at theaters, clubs and venues throughout the region, including The Mainstay in Rock Hall, the We Are Takoma Series, the Havre de Grace Maritime Museum, the Globe Theater in Berlin, The Capital Maritime Music Festival, the Elektrik Maid, and Galesville Memorial Hall. Why don't you get in on the fun? We'll do anything for a buck, so drop us a line, sailor!
So What Exactly Goes On at a Bawdy Show?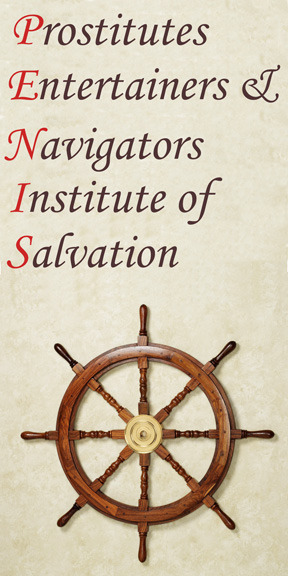 At a Bawdy show, you'll join our bawdy crew (all-star local folk quartet Jennifer Cutting, Riki Schneyer, Craig Williams, and Steve Winick) on a raucous romp through centuries of dirty ditties, bawdy ballads and lusty lyrics culled from seaside barrooms and brothels far and wide. Retired sailor Long John Skivee (Williams), retired "Lady of Convenience" Lucy Snatch (Schneyer), rest home caretaker Cornelius "Connie" Lingus (Winick), and choirmistress and organist Regina Dentata (Cutting) present a "benefit concert" for the "Prostitutes, Entertainers & Navigators Institute of Salvation" (P.E.N.I.S.--pronounced PENN-iss).  It's an ample show of shameless songs that have propelled innocent people to their moral doom from time immemorial. The group's research into dusty archives of depravity and delight will ensure that this isn't just any old bawdy songs show―you're bound to hear refreshingly raunchy songs you've never heard before. They've even written a few choice selections themselves!

In the low-tech, time-honored tradition of gathering to raise our voices in song, this is community music-making at its best. The audience is absolutely expected to chime in on the choruses of naughty songs that have come down to us from pubs, tall ships, British music halls, the army, the schoolyard, and wherever such songs are sung. No experience is necessary--but we find experience delightful, too!