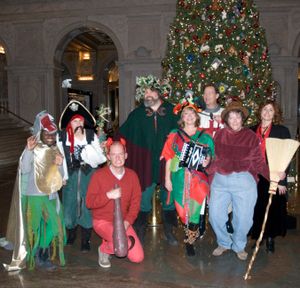 This year I once again adapted, directed, and performed in my office's Christmas Mummers play.  Mumming, or disguising oneself, going door to door, and performing in neighbors' homes and in public places, is a very old and widespread custom in Europe, going back at least to the middle ages.  However, the type of play we call a Mummers Play today may not go back any further than the eighteenth century, since earlier references to "mumming" either are vague about the exact type of performance, or are clearly a different kind of play. 

Modern Mummers Plays typically involve a fight between two champions, one of whom is killed.  A doctor then revives the dead hero.  In their death-and-resurrection theme, they clearly resonate not only with Christian beliefs, but also with earlier pagan beliefs, leading some to theorize that they are vestiges of pre-Christian ceremony. My own feeling is that they reflect vesitges of pre-Christian thought within Christianity itself, making them pagan in flavor but Christian in origin. Plays of this type are widespread throughout the English-speaking world, including Britain, Ireland, Newfoundland and other parts of Canada, Kentucky, and St. Kitts and Nevis. 

The American Folklife Center, where I work, is lucky to have a collection particularly rich in Mummers Play texts, the James Madison Carpenter Collection.  During his fieldwork in Britain in the 1930s, Caprenter collected over five hundred texts of folk plays.  In 2009, it occurred to Folklife Specialist Jennifer Cutting to adapt a new version of the Mummers Play from the Carpenter materials.  She enlisted my aid, and the two of us produced the first script in that year.  The following year, we changed it; since one of our actors happens to be from St. Kitts and Nevis, where an unusual version of the Mummers Play has been documented, I added her character, the dragon, from a Caribbean version.  We also began to add topical references, which is a traditional aspect of Mummers Play performances.  Ours centered around our lives as Library of Congress employees.  This year, we continued that tradition, by adding more references to life in the Library.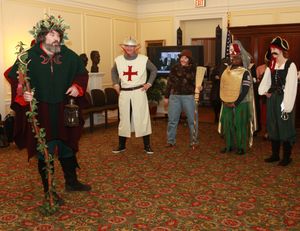 In our version of the mummer's play, the action is introduced by the clown "Hind-Before," who appears wearing all his clothes backwards.  Hind-Before also reverses some elements of his speech, which leads to comical statements such as:

She asked me to have a bite of her ale and a glass of her bread and cheese.
I said "Yes, thanks," but I meant "No, please!"

Hind-Before introduces Father Christmas, who in addition to calling for room, begins to reference current events within the Library this year, particularly the reduction in staff mandated by Congress's budget, which so far has taken the form of buyouts that resulted in many retirements.  The whole year involved a lot of people trying to find out if they qualified for a buyout, and then a fair number actually retiring.  We made reference to this in Father Christmas's lines:
Two thousand years and eleven is a very great age, I fear,
But I don't qualify for a buyout, so I'll work for another year!

We continue to emphasize the buyouts in the ensuing scene: Father Christmas requests a champion, calling out the name of a retired LC employee. When told by the rest of the mummers that his proposed champion has retired, he tries a number of other names, to find they have all retired.  In desperation, he states:

Very well, then, very well
If we can't find a champion in the Library, we'll have to go to...

Before he can say "Hell," he is interrupted by the next character: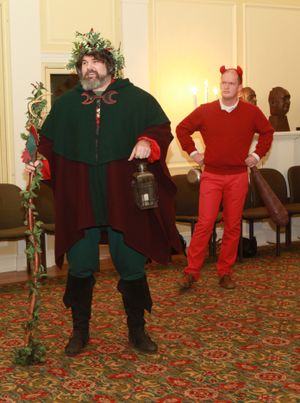 In comes I, Beelzebub
Over me shoulder I carries a club!

Beelzebub introduces the dragon, who threatens the room with her impressive claws and jaws, asking if there is anyone willing to fight her.  Her challenge is accepted by the next character, St. George.  The two exchange fighting words, during which the dragon threatens:

Marrow from your bones I'll squeeze
and suck your blood out by degrees!

The two fight, and St. George is victorious.  Father Christmas and Beelzebub then have an exchange, in which Beelzebub reveals he has more champions.  He calls on Captain Thunderbolt, a pirate who has spent time on Amelia Island (where our director, Peggy Bulger, is moving after her retirement in two weeks).  Thunderbolt also introduces the recurring theme of Florida alligators:

Down in Florida, they allege I've done some crimes,
So I denied the allegations, and wrestled the alligators, not once, but many times!

Captain Tunderbolt and St. George exchange traditional fighting words, with St. George admonishing:

Mind your eyes and guard your blows
Or else I'll stab you through the nose!

The two fight, and St. George is slain.  Beelzebub attempts to drag St. George off to hell, but Father Christmas calls instead for a doctor.  The doctor arrives, and after making more references to Peggy's impending retirement to Florida, boasts that she can cure anything:

Low TSP, Momentum Wheezes, Continuing Resolution Freezes
And all other vandorious diseases

(The diseases she speaks of are all government-employee references: TSP is our retirement savings plan, and Momentum the software that controls our budget.  Continuing Resolutions are the legislative method of funding the government at a previous year's level until a budget can be passed, which typically results in spending freezes.)

The doctor cures first St. George, and then the Dragon, making the other characters cheer with amazement.  Hind-Before opines that

They're much as they were at the start of the play
So nothing has happened this long winter's day!

Hind-Before then introduces Jack Funny, but the clown who enters denies being Jack Funny:

Jack Funny's a fool, Jack Funny's a pest
My name is Clever Legs, a man of great request!

Clever legs plays "Lilliburlero" on the accordion, and the three fighters and the doctor dance to the tune.  When the dance is over, Father Christmas sings "The Gloucestershire Wassail," with everyone joining in on choruses, to end the play.

We performed the play three times this year.  First, we did it at our office holiday party, which doubled as a retirement party for Peggy.  Then, we "invaded" the holiday party of the Associate Librarian for Library Services and performed it there.  The audience included the Associate Librarian, Deanna Marcum, and the Librarian of Congress, Dr. James Billington.  This is the first time Dr. Billington has seen our play, and he was an excellent sport, even when Clever Legs mussed up his hair!  Our third performance was In the Library's magnificent Great Hall, right in front of its massive, beautifully decorated Christmas Tree.

Although the office party season is over, my season as a mummer is not yet completed.  December 17, I will be performing some of my Father Christmas speeches as "Captain Christmas," emcee of the "Season of the Sailor" concert featuring Bob Zentz and Calico Jack.  (December 17, 7:30 pm, City of Takoma Park - Recreation, 7500 Maple Ave, Takoma Park, MD.)  The concert is free, but donations are accepted...they'll all go to pay Bob's travel expenses, since the Calicos and I all live in Takoma Park. 

Then comes the big show, which I'll write more about later: on December 27th, I will direct and perform a boisterous Mummers Play as part of the Song of Solstice release concert at the Birchmere!  I'd love to see you there!

UPDATE 1: I was hurrying to get this post out in time for the December 17 concert, but I should have given credit to my fellow actors!  Big thanks to Valda Morris as the Dragon, Joanna Russo as Captain Thunderbolt, David Quick as Beelzebub, Jennifer Cutting as Clever Legs, Todd Harvey as St. George, Stephanie A. Hall as Hind-Before, and Theadocia Austen as the Doctor.  Also, Stephanie gets special mention as an amazing tailor (and "tailer"), for having designed and made our awesome dragon costume!

UPDATE 2: I'll be doing Captain Christmas one more time this season, December 18, 7:30 p.m., Annapolis Maritime Museum, with Bob Zentz and Calico Jack.