Years from now, my niece and nephew and once-removed cousins are apt to ask me: "Weird Uncle Steve, what's it like to sing in a Great Big Rock Concert?"

Luckily, I will now be able to tell them, in my usual articulate manner: "It's, uh, pretty awesome."

But I get ahead of myself. First of all, where do I get off calling the show on December 27, 2011 at the Birchmere in Alexandria, Virginia, a "Great Big Rock Concert?" It was certainly a triumph of electric folk and a watershed moment in Celtic-Andalusian Solstice observances, but a "Great Big Rock Concert?" Really?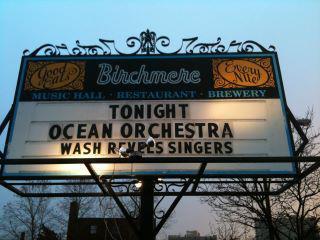 Photo by Glyn Collinson

Okay, stay with me here. Monster bass player Rico Petruccelli and drum maestro Robbie Magruder were on the stage throughout the show, and Zan McLeod teased out screaming electric guitar solos every so often. With these dudes on a gig, whatever you do becomes a Rock Concert!

We had over four hundred people in the house…which means that (by my calculations) we played to hundreds AND hundreds of people. I call that Big! Plus, we had, at one time or another, over forty-five people on the stage during the evening.  That's Big, baby!

Finally, as an interested party, I can't say that it was "Great" myself, but I can at least refer to audience reaction.  So, here goes: Michelle Erica Green of The Little Review wrote that it was "wonderful in every way." Robert Garofalo called it "brilliant" and said we "performed magnificently."  Anita Burkam called it "fantastic," Roland M. Fry said that he and his guests "left the show in utter awe and amazement," and Milan Pavich called it "Really, really fun...the energy was amazing." My personal favorite of all the comments came from Marty Summerour, who wrote: "It was a magical night...Steve Winick is great too." She is rivalled for the "closest comment to my heart" by Mark Chello, who wrote (in part): "The fabulosity was, like, in the red...I was chortling like a happy toddler.  It was epic. Ludic. Carnivalesque -- if carnivals had really, really good music. The harmony of the cosmos was temporarily re-established.  Flabbergastingly good stuff."

"OK," I can hear you saying, "but was it Great?"  Well, Andrew Teter called it a "Great concert," Frank Cassel called it a "Great show," and Henry Lefkowitz wrote, simply: "Holy crap, it was Great!"

So there you have it folks: a Great…Big…Rock Concert!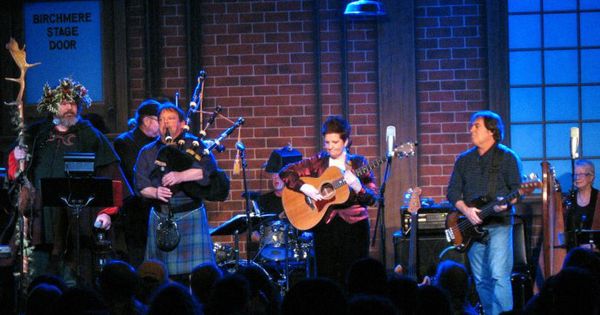 So what the heck was it? In short, it was a collaboration of the Ocean Orchestra with singers from Washington Revels. In addition to the blokes called out above, the Ocean Orchestra is bandleader/ keyboardist/ accordion player/ songwriter Jennifer Cutting; angel-voiced singer extraordinaire/ guitarist/ whistle-player Lisa Moscatiello; fiddle wizard Robert Spates; Highland Bagpipe virtuoso Tim Carey; and, uh…me. (I sing, recite poetry, play various tinkly and shakey percussions, wear funny but impressive clothes, and, in this show, carry a big stick.) Together, we perform Celtic folk rock that Jennifer likes to call "Celtic Music for Ancient Moderns."  This particular gig was a release concert for Ocean's latest CD, Song of Solstice, which is an album of traditional and original winter music for all faith traditions.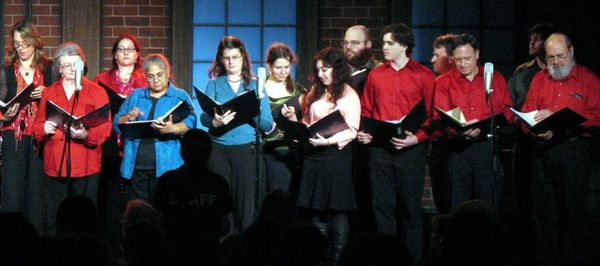 Washington Revels, on the other hand, is an organization of people who have dedicated themselves single-mindedly to their hobby: being upstaged by diabolically cute and talented children. (They also like "reviving and celebrating cultural traditions -- music, dance, storytelling, drama and ritual -- that have bound communities together over the ages and across the globe.") This year, Washington Revels learned songs from Spain in the time of the caliphs, when three cultures flourished – Moorish, Sephardic and Iberian.  Combining that with Ocean's repertoire, this gig was billed as "A Celtic-Andalusian Solstice Celebration." (Now THAT's marketing, folks!)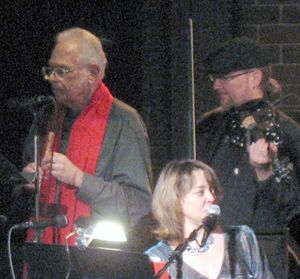 Since this whole Celtic-rock-band-plus-choir-plus-kids thing wasn't complicated enough, we also had two guest musicians with Ocean (early-music woodwind player John Guillory and Celtic Harp genius Sue Richards), three guest musicians with the Revels (viol player Tina Chancey and guitarists Melissa Carter and Jake Hendren), a troupe of Morris Dancers known as the Foggy Bottom Morris Men, and a Mummers Play. (At the last minute, Jennifer decided against the live reindeer and the reenactment of Mithras slaughtering the cosmic Bull, which I now think was a good decision.)



The show opened with Ocean taking the stage, and a disembodied-voice-of-God reciting a poem that began:

"I open the door, I enter in,
I beg all favour for to win."

As the poem went on, the speaker revealed himself by walking from the back of the hall up one of the aisles, and joining the band onstage, while reciting the lines:

"It's Christmastime, and you shall hear
Music filled with hope and cheer.
Good songs, swift tunes and a little bit of verse;
We hope to do it better than the folks that do it worse!"

The speaker, now revealed to be none other than I, wearing an impressive Father Christmas getup and reciting verse I mostly wrote myself, finished with the lines:

"Welcome Ocean Orchestra
And Washington Revels too,
And Welcome Father Christmas,
And mostly, welcome…YOU…"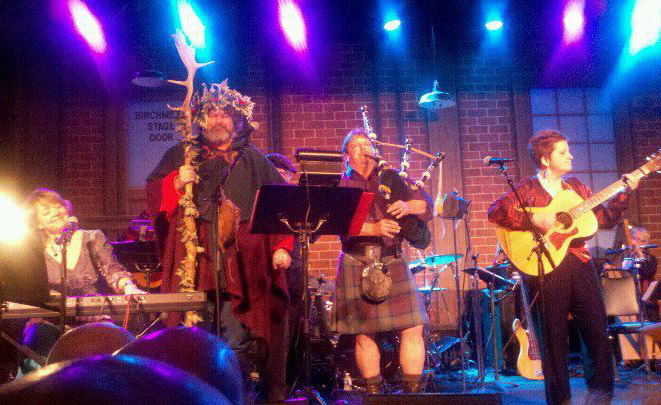 Photo by Thom DeCarlo

…and the band crashed into a thoroughly rousing set of bagpipe jigs to open the set. The band was tight and loud and brilliant; nothing beats Robert's fiddle and Tim's pipes propelling us through a traditional tune, while Jennifer's organ adds its prog-rock flourishes and the rhythm guys kick out a vicious beat. (I can say this objectively, because I contributed absolutely nothing to this number…except for looking good in my costume!)  Lisa followed this set with her beautiful version of "In the Bleak Midwinter," a carol with lyrics by Christina Rossetti, music by Gustav Holst, and arrangement by Jennifer Cutting.


Betsy Miller and the Revels chorus and children then took the stage and did a magnificent job on the Christmas carol "Fum Fum Fum" and the Hebrew song "Hanukkah oh Hanukkah" from their Andalusian show. We continued with a mixed group of Oceaners and Revelers singing Jennifer's original song "Light the Winter's Dark," which celebrates every religious tradition known to man, and some known only to woman.  Being a Nice Jewish Boy, I usually sing the second verse, celebrating Moses, but this time I got the first verse, which is about another Nice Jewish Boy (Jesus). The other verses were sung by Lisa (Buddha), and by the Revelers Will Wurzel (Mohammed), Jane Bloodworth (Moses), and Betsy Miller (The Lady).  I once coined the term "ecumaniacal" for this song, and I don't think I'll take it back!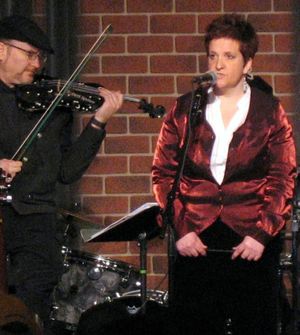 The next piece was a traditional Hebrew round, "Shalom Chaverim," which was sung in both Hebrew and Arabic. The Revels' executive director and songleader, Greg Lewis, came to the fore to get the audience singing, and the round came out beautifully. When the harmonies were done resonating, Ocean launched into "Fall, Leaves, Fall," Jennifer's setting of Emily Brontë's poem. On the Song of Solstice album, this one was sung by Annie Haslam, of the great Progressive Rock band Renaissance, but in this concert, lead vocals were by the incomparable Lisa Moscatiello, and spectacular high vocals were added by Elisabeth Myers, to duplicate Haslam's amazing performance. We followed that with Jennifer's hilarious original song, "Bah, Humbug," which celebrates the age-old tradition of hating Christmas. Set to the tune of Gilbert and Sullivan's "Tit Willow," it describes all the worst parts of commercialized American holidays, up to the point where

"The dreaded day dawns and the in-laws arrive
Humbug, bah humbug, bah humbug
With their lime-jello-marshmallow-broccoli-surprise
Humbug, bah humbug, bah humbug."

While giving this song my usual melodramatic treatment, I happened to notice three Jewish friends of mine (Riki Schneyer, Henry Lefkowitz, and Ken Roseman) sittng in a clump at the front of the hall. So when I got to the song's final line, "I'll be out with my Jewish friends for a movie and Chinese…." I gestured toward them with a flourish.

"Terrific," I thought. "How clever of me!"

Sadly, my gesture was lost on the audience, because no one was looking at me; I was, in fact, being upstaged by diabolically cute and talented Revels children, who had snuck onstage to sing the refrain. "Bah, Humbug," indeed!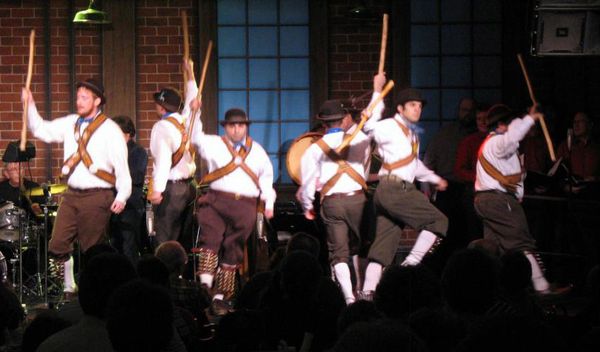 We ended the first set with "Green Man," another of Jennifer's originals, which is sort of my star turn with the band. It's the song I sang on the Song of Solstice album, and one I've been doing with the band for a few years now. It should have been a no-brainer, but that night I was singing it with unusual trills and frills by John Guillory on recorder, and harmony vocals by twenty-four singers including the Revels children, so I needed to concentrate just a little. Luckily, just as I started singing, a cadre of bowler-hatted lunatics with loud bells on their ankles (otherwise known as the Foggy Bottom Morris Men) leapt up on the stage and began whacking at one another with sticks, in an impressive, energetic, and thoroughly distracting new dance choreographed by Andrew Marcus. Thanks in no small part to Rico and Robbie, the band held their end together and I held my end together, until we were all washed off the stage by the testosterone tsunami coming from the Foggs.  Thus began the intermission.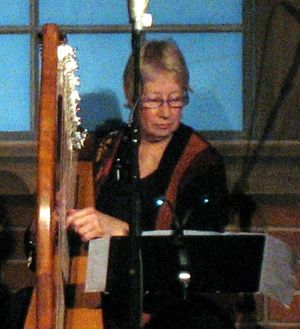 I won't be as detailed about the second half of the gig, since I actually missed a good deal of it (I had to be backstage preparing for the Mummers Play). However, I'll say that Ocean's highlights included Lisa and the band's gorgeous rendition of the carol "Quel est cet odeur agréable" and their equally impressive "Time to Remember the Poor," which teamed Lisa's dark-tinged vocal with apocalyptic guitar solos from Zan and massed harmonies from the Revels. Revels highlights were "Tan Buen Ganadico" and "Riu Chiu Chiu," two more gems from their Andalusian production.  There was also a lovely set of solo harp tunes from our friend and guest musician, Sue Richards.



The harp solo was my cue to enter and begin the Mummers Play, about which I'll write a separate blog post (stay tuned!) The play concluded with the mummers (who were me and a selection of Revelers) singing the Christmas carol known as "The King," or "Joy, Health, Love, and Peace."  It included my most obvious clam of the evening: it's hard to teach an old mummer new tricks, and I forgot to sing the song "the Revels way," which syncopates one line differently from the way I learned it. Thus, I was out-of-step briefly with the other mummers.  That, as they say, is Show Biz, but I daresay few noticed! Immediately after the Mummer's Play, Jennifer picked up her melodeon and the rhythm section kicked in behind me, and I led the hall in the traditional "Gloucestershire Wassail," a Christmas song about white toast, brown ale, wooden bowls, bovine body parts, farmers, grain, pie, and girls (in that order).

We ended the gig with the title track of the latest Ocean album, Jennifer's original "Song of Solstice." On the album it's sung by John Roberts and Tony Barrand, but live it's Steve Winick and Lisa Moscatiello…and we do a damn fine job of it, too. Once again, to make sure we could concentrate, Jennifer and Betsy arranged for us to be joined by all the guest musicians, fourteen singers from Revels, and the Morris Dancers, this time dancing an original Cotswold-style handkerchief dance by Jim Voorhees...thanks, guys!  After this massive production, Tim struck up a pipe tune and we marched off the stage.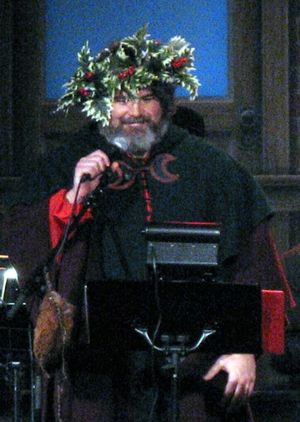 You may have noticed that no photos exist of me actually singing in this concert. This is because, let's face it, I'm not much to look at. Also, every time I sang, photogenic children emerged to sing on the choruses, or else the Morris dancers leapt up and began their riveting antics. These goings-on distracted the photographer from the REAL action, so that there are hundreds of photos of children, thousands of photos of stick-wielding lunatics, and none of me singing. Luckily, there ARE photos of me adjusting my mic, which proves that I was there, and that they gave me a mic. (We packed so many onto the stage that it's hard to find even a recognizable photo of Zan or Robbie from the evening, so I'm counting my lucky stars!)

The whole evening went better than we could have hoped; it was not only a highlight of my performing career, but, judging from all the comments I've heard, a real audience-pleaser as well. All of those who performed owe thanks to Jennifer and Betsy, the principal architects of the evening, as well as to the extremely professional and talented staff of the Birchmere; their sound guys were unbelievable given the complicated nature of the show.  I'm also very grateful to all the musicians and dancers, who made the evening such an unforgettable one.  Thanks to the Birchmere also for photographing the event and sharing the pictures on facebook--all the photos in this post, except for those credited to others, are from the Birchmere.

For posterity (or perhaps posteriority), here is the lineup of the evening:

Ocean Orchestra:
Jennifer Cutting, director, accordions & keyboards
Lisa Moscatiello, vocals, guitar, whistle
Zan McLeod, guitars, bouzouki, mandolin
Bob Spates, fiddle
Tim Carey, Highland bagpipes
Stephen Winick, vocals, shaker
Rico Petruccelli, bass
Robbie Magruder, drums

Ocean Guests:
Sue Richards, Celtic harp
John Guillory, recorders

Revels Adults and Teens:
Jane Bloodworth
Glyn Collinson
Jim Eustice
Helen Fields
Nicole Gianuca
Peg Gianuca
Greg Lewis
Elizabeth Fulford Miller
Elisabeth Myers
Celia Murphy
Jason Noone
Peter Noone
Guenevere Spilsbury
Will Wurzel

Diabolically Cute and Talented Revels Children:
Elena Bachman
Abby Ehrenstein
Anna Grace Hosh
Emelie Jarquin Manegold
Sonia Krishan
Aiden Mattke
Madeline Merrill
Kirsten Wheeler
Khaya Imani Yankey

Revels Musicians:
Tina Chancey, fiddle
Melissa Carter, guitar
Jake Hendren, guitar

Foggy Bottom Morris Men:
Andrew Marcus, Foreman
Alan Peel, Squire
Jim Besser, musician
Nathaniel Brown
Alex Dennis
Meyer Kachel
Mike Livingston
Judson McIntire
Hal Rogoff
Rodger Sunderland

Revels Leaders:
Roberta Gasbarre, artistic director
Elizabeth Fulford Miller, music director
Greg Lewis, executive director
Jenni Swanson Voorhees & Kat Toton, children's directors
Emilie Moore, children's stage manager