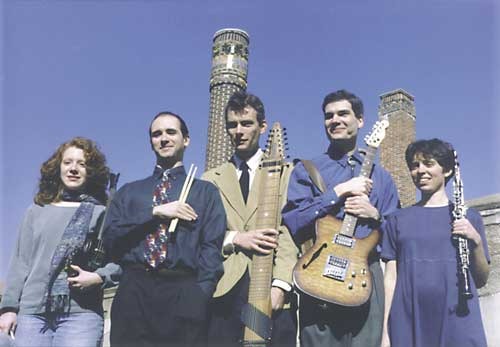 There's a good chance it was ten years ago today," mused Tom Rhoads, lead singer and guitarist with Philadelphia-area band Broadside Electric, in a May 2000 interview. For a decade, these talented musicians have been bringing electrified British folk music to the eastern United States. They play the kind of music that was pioneered by English bands Fairport Convention and Steeleye Span, along with healthy doses of klezmer, eastern European, and other ethnic music as well.

When Rhoads and his college friend Jim Speer began playing music together informally, their attention soon turned to British folk. Although he was interested in a wide variety of music, Rhoads cites Joan Baez and Steeleye Span as inspiration. "I had an interest in the Child ballads from having listened to Joan Baez from the time I was very small," he said. "I got interested in traditional music again [in college]. I was looking for some version of some song, and turned up a Steeleye Span record. And I really liked that, and started looking at things that were in the same bin at the record store." During a year off from college, Rhoads traveled to England, where he saw both Fairport Convention and Steeleye Span perform at the annual Fairport reunion festival at Cropredy. When he returned, he was a convert to electric folk.

As for Speer, he didn't take much convincing. "I was into Jethro Tull," he offered. "So it was a short step for me." Soon the pair was delving deeply into Fairport Convention and Steeleye Span albums. "Tom and I pretty much wanted to be Steeleye Span in the Commoner's Crown era, or Parcel of Rogues."

To push their sound toward that ideal, Rhodes and Speer set out to audition violinists. "Helene [Zisook] came along and auditioned," Rhoads said. "That audition was just about 10 years ago."

Zisook picked up the story: "I saw this poster looking for a violinist in a folk-rock band. I thought, 'Kenny Loggins and James Taylor and Cat Stevens…this sounds really cool!' Because I'd really never heard of England."

Zisook had learned Suzuki violin as a child, and had toured with the Chicago Youth Symphony Orchestra. When she got to college, she wanted to expand her musical horizons, but first she had some remedial listening to do. "They kept saying, 'Have you heard of Steeleye Span? What about Fairport Convention?'" The answer was always no. "It's funny," Zisook concluded. "I came from nowhere. Poor Rachel had to teach me the difference between a jig and a reel!"

Rhoads recruited the band's fourth founder, concertina player Rachel Hall, and they played their first concert in December 1990. This lineup used their instrumental versatility well: Rhoads played harmonica, recorder, and piano, in addition to guitar; Speer played saxophones, clarinet, and recorder, in addition to bass; and Zisook played viola and mandolin in addition to violin. They also toyed with crumhorns, rauschpfiefe, and other instruments; on one tune they played fifteen instruments among four players. Mostly, however, they played covers of Steeleye and Fairport songs.

When Hall left Philadelphia in 1991, the band filled her slot with singer and lap dulcimer player Melissa Demian. A musician with great magnetism and stage presence, Demian changed the dynamic of the band. Since she could sing lead and play rhythm on half the songs, she opened the way for Rhoads to develop his lead guitar playing. Vocal duets also became possible, and arrangements of songs like "Henry Martin," "Tam Lin," and "The Witch of the Westmorland" took full advantage of both lead singers. Rhoads remembered Demian's years with the band as crucial to their development: "We really started to explore eastern European music, and a wider range of influences," he said. "We stretched the instrumental formation to its limits. The dulcimer is a limited instrument, but we'd turn it into a harpsichord or a drum kit." This lineup also recorded Broadside Electric's first two CDs, the debut Black-Edged Visiting Card (1993), and the live Amplificata (1994).

The band soon developed a more mature approach to repertoire. They ceased looking exclusively to earlier folk-rock bands, and started doing their own research. "For ballads in particular," Rhoads said, "we go to printed sources quite a lot. For tunes, we get more off records; ornamentation and style are so important that it helps if you hear someone play the stuff. Other songs can come from anywhere. Some from records, some books, some we mix and match pieces of things."

"A good thing about this kind of music," Speer continued, "is that there's an endless supply. Tom owns a copy of the Child ballads, we own a copy of [The Traditional Tunes of the Child Ballads by] Bronson. It's like finding buried treasure wherever you dig." This approach has allowed the band to retain a solidly traditional repertoire while also contributing new and creative ideas to their music. "A lot of famous acts do their 'Tam Lin,' but we have our 'Tam Lin' and it's something that we contributed," Speer says on the band's website. "It's as if we're Renaissance painters and we're doing our depiction of the Crucifixion. The subjects are already there. It's up to us to offer our own interpretation."

With a strong, eclectic repertoire born of research and creativity, the quartet seemed ready to settle into a groove. Another lineup change ended all that: In 1994, Demian left the band, and the remaining three members decided to finish out their scheduled appearances as a trio and let Broadside Electric die.

That's not the way it worked out, though. "In order to cover those gigs we had to arrange some new music, and we had this whole burst of creativity," Rhoads explained. "We were still having fun." All of them scrambled to fill roles left vacant by the shifting dynamic. Each member took on a new challenge. Rhoads took up the dulcimer to cover the gap left by Demian. Zisook took up the electric violin. Speer took up the Chapman Stick, an instrument very much like a guitar and a bass together on the same neck; this allowed him to cover bass, guitar, and rhythm parts equally well. They played for three years and arranged many new songs and a lot of dance music. Then, in 1996, they recorded their strongest and most confident album to that point, More Bad News.

From its opening song, a restrained but powerful version of the old ballad "Babylon," More Bad News shows off the trio at the height of its powers. The heart of its offerings are four arrangements of classic ballads, including the relatively tame "Lord Bateman" and the hair-raising "Sheath and Knife." It also includes two songs for social justice (Woody Guthrie's "Pastures of Plenty" and Leon Rosselson's "World Turned Upside-Down"), one bouncy French dance tune, a set of reels, and a quick and silly version of a song they got from the Animaniacs! Peppered here and there with tunes from Macedonia, Bulgaria, and Ukraine, the album is more diverse than your average folk CD. All the tracks are played with aplomb by the three instrumentalists on a total of 13 different instruments, creating an exciting, unpredictable sound.

More Bad News was played on Philadelphia folk radio, and one of those who heard it was a mathematics graduate student named Amy Ksir. Ksir had been involved in folk and classical music for some time, and had recently begun to play tin whistle. "I heard them on the radio, and instantly said, 'Wow, they're doing all the different kinds of music that I love.' " Ksir remembered. She decided then and there she wanted to join the band. "I went to all their concerts and followed them around."

At first the band members were reluctant. Zisook feels they were taking themselves a little seriously. "When Rachel left," she remembered, "we auditioned a million people, and made a big deal out of it. [Five years later] when Amy said 'I want to play with you,' we said no! I look back and I think it was strange that we were like that."

Rhoads offered another explanation: "Our music was carefully arranged and a lot of rehearsal was involved. We couldn't have people coming in and going out and expect to play those arrangements effectively. We needed a big commitment."

Soon, however, it was obvious that a change had to come. "We had reached this point of stasis, where it wasn't clear where we were going next musically," Rhoads said. Their solution: add another melodic instrument and a drummer to the band. Ksir, who had convinced them of her commitment, was tapped to be the melody player. They also had a drummer in mind, a jazz and rock player named Joe D'Andrea, whom they had met a year earlier. They called D'Andrea up and arranged a get-together for them to play some covers of Horslips together. "You could call it my audition," D'Andrea remembered, "because all of a sudden I got this phone call."

The resulting lineup of Rhoads, Speer, Zisook, Ksir, and D'Andrea is more like a rock group in style, but in substance it remains very much a folk band. "It's important to me that we're still playing folk music," Rhoads emphasized. "We've adopted some rock instrumentation and some elements of rock style. But fundamentally, what we do is folk music."

In addition to the drums and the tin whistle, the new lineup offered a few surprises. Ksir had been an orchestral oboe player in school. "I figured out that I could play oboe in folk music, too," she enthused.

"That was like the icing on the cake, to have an oboe fall into our laps like that," Speer agreed. "I always wanted us to sound like those old Albion Band albums like The Prospect Before Us or Battle of the Field. Electric guitar and oboe is one of the best sounds in the world."

As a quintet, Broadside Electric has played many festival and concert dates, honing their punchier, more explosive group sound. Some fans love it immediately; others are initially skeptical. "Sometimes it's hard to convince people that traditional music didn't stop a hundred years ago," Speer said. "I try to think about traditional music as something that keeps moving. Hopefully we can put in our two cents now." Their material includes a lot of the trio arrangements filled out for the five-piece band, as well as many pieces newly arranged by the quintet.

In 1999, the quintet released Broadside's fourth CD, With Teeth. The title is an inside joke. Several years ago someone — the band members can't agree on who — came up with the slogan "folk music with teeth." "It was during this time when everything on the radio was 'with teeth,' " Zisook remembered. "All these politicians were saying that their policies had teeth." The slogan ended up on Broadside Electric's bumper stickers. Rhoads continued: "Rachel subsequently wrote this tune, 'Polka With Teeth,' and it wound up on the record. Then, we were choosing between some different cover concepts, and Helene came up with this great graphic with the gears." All indications pointed to making the title a reference to teeth, and as D'Andrea pointed out, "We didn't want to call it Broadside Electric Bites!"

With Teeth is an excellent album, imbued with confidence and the spirit of adventure. Take their arrangement of a set of European dances including the "Horses' Bransle": crumhorns, recorders, mandolins, and citterns, underpinned with bass and drums, joined at times by Hall on the concertina; it's unpredictable and inventive, but it sounds natural all the same. Demian guests on another track, a version of the English song "The Gardener." The members also show off their sense of humor; at one point a set of tunes gives way to a few bars of the Pac-Man theme. It all comes down to the band members being comfortable working together. "I know that I can throw some idea at Jim, and have it come back like it came out of a funhouse mirror," Rhoads said. "But it'll be good!"

The band is currently playing concerts around the northeastern U.S. in support of With Teeth. Future plans include a tenth anniversary concert to be held in December 2000. "We're trying to have a big celebratory concert and have Rachel and Melissa take part, and play old music and new music, and try and have a really good time," Rhoads said. "And maybe record it."

As for another studio album, the band is taking its time. "I think we are continuing to improve, and we wouldn't want to turn around and make With Teeth over again," Rhoads explained. "We'd rather find a new angle, and it's not clear just now what that would be. So it's not time yet."

They've waited ten years to get to this point; they're not about to start rushing things now.