The Carolina Chocolate Drops
The Carolina Chocolate Drops: Out of the Archives



On Saturday, February 18, 2012, the Library of Congress's Coolidge auditorium hosted a relaxed and thoroughly enjoyable concert by Grammy-Award-winning old-time folk music group The Carolina Chocolate Drops. The concert featured old-fashioned music on guitar, banjo, steel-resonator mandolin, harmonica and fiddle, with rich bass tones added by cello. The band also treated the audience to some fascinating and unusual folk instruments including rattles, bones, kazoos, and quills. It was a showcase of lively rural American songs and tunes, in the styles that formed the immediate precursors to blues, country, and jazz…indeed, to most of American popular music. As Associate Librarian for Library Services Roberta Shaffer stated in introducing the group, the band "reinvigorates music dating back to the pre-Civil-War south, bringing back to life jigs and reels and work songs…it is truly terrific to have the Carolina Chocolate Drops with us!"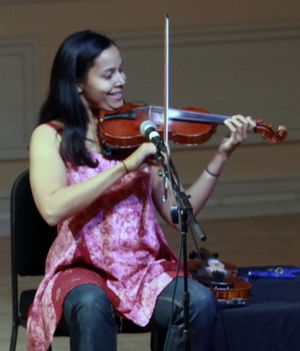 The charismatic performers played almost two hours of music, beginning with "Kerr's Negro Jig," an American tune to which they gave a stately, Celtic-flavored arrangement led by the fiddle of Rhiannon Giddens, and ending with "Sourwood Mountain," an iconic American folksong played as a breakdown on fiddle, banjo and guitar. In between, the musicians explored the backwoods ballads, juke joint blues, downtown jazz struts, and medicine-show ditties that defined and shaped American music. They played such pieces as "Your Baby Ain't Sweet Like Mine," "I Truly Understand that You Love Another Man," "Milwaukee Blues" and "Was You Ever in Quebec," which they learned from artists ranging from Shortbuckle Roark to Ethel Waters. They also played contemporary songs, including "Hit 'Em Up Style," the R & B hit originally performed by Blu Cantrell in 2001.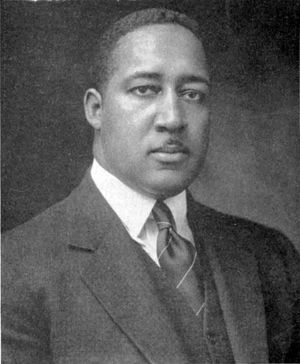 The concert was co-sponsored by two divisions of the Library, the Music Division and the American Folklife Center. In addition to the obvious (a shared love of music), these two divisions have an important thing in common: they have both been home to the nation's premiere folk music archive, which has been called the Archive of American Folk-Song, the Archive of Folk Culture, and most recently, the American Folklife Center Archive. The Archive is particularly important to our collaboration on this concert, because the band members have visited it in the Library's Thomas Jefferson building to do research, and they play materials learned from its recordings. At the February 18 concert, they played versions of "Read 'Em, John," "Trouble in Mind," and "Last Chance," learned from recordings made by Alan Lomax, and of "Po' Black Sheep," learned from a recording made by John W. Work, III, both important fieldworkers who contributed to the Archive. They also played "Alabama Bound," which they learned from a disc recording of Jelly Roll Morton; Alan Lomax recorded the Morton disc for Library seventy-four years ago, in the very same room where the Chocolate Drops played their cover version!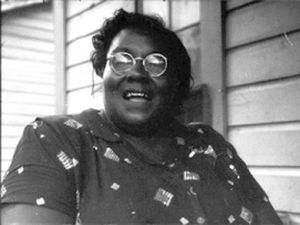 Because of their connection to and affection for the Archive, the band members graciously allowed me to interview them briefly on the stage, and told me about the archival recordings from the Library of Congress that most inspired them. Leyla McCalla, the group's cellist, spoke of Alan Lomax's Haitian collections from 1936 and 1937; as a Haitian-American, she found fascinating resonances with her own family. Giddens, likewise, heard echoes of her grandmother's singing in recordings of Alabama gospel singer Adele "Vera" Hall Ward (1902-1964), made by John Lomax from 1937 through 1940, and by Alan Lomax in 1959. She also spoke about being recorded by fieldworkers from the organization MusicBox Project for the film Americana Women, a forthcoming documentary about women in American roots music; much of the project's original documentation, including some of Giddens, has been donated to the AFC Archive.  Hubby Jenkins spoke about the recordings that the famous novelist and folklorist Zora Neale Hurston made in Florida in the 1930s, featuring both her own singing and the singing of other informants.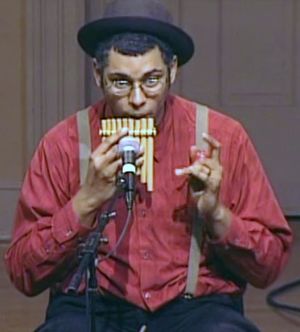 Dom Flemons, who has spent the most time poring through the archive's collections, mentioned many of AFC's recordings, including those of Lomax and Work, explaining that his university library kept copies of The Archive of Folk Song's LP records; listening to them was one of the ways he first encountered folk music. He spoke about the influence of the late Mike Seeger, not only as an important collector for the AFC archive, but also as a mentor. Finally, Flemons pointed out that the Library of Congress has the only archival field recordings of African-American music on the "quills," or panpipes: disc recordings made by Alan Lomax of the Mississippi musician Sid Hemphill in the 1940s and 1950s, and tape recordings made by Ralph Rinzler of the Alabama player Joe Patterson in the early 1960s. He played a snippet in each musician's style, and talked about their influence on his own compositions. (Flemons also revealed himself to be a true Library of Congress fanatic by doing an uncanny voice impression of the LC transfer engineer who made reference-tape copies of Lomax's original discs in the 1970s. The voice of the engineer, who announced each song on the reference tape as part of the transfer process, can only be heard in the AFC reading room, or on made-on-demand copies of AFC materials available from the Library's recording lab!)

After the interview, they returned to their program of music, delighting all who heard them and, we hope, giving people insight into the ways in which archives and libraries can bring us not only learning, but joy.



 


The Carolina Chocolate Drops have been bringing joy to audiences now for about seven years. The band has its roots in an informal jam session held at the home of a celebrated old-time fiddler, the late Joe Thompson of Mebane, North Carolina. Starting in 2005, the three original Chocolate Drops, Dom Flemons, Rhiannon Giddens, and Justin Robinson, who had met on an internet forum about black banjo playing, began visiting Thompson on Thursday nights to play and learn music. Joe Thompson was then in his 80s, and his fiddling style went back for generations in his African-American family. He had learned his diverse repertoire during jam sessions held by local farmers on their back porches, after the day's field work was done. He enjoyed passing his skills on to younger players like Giddens and Flemons in
similar informal jams.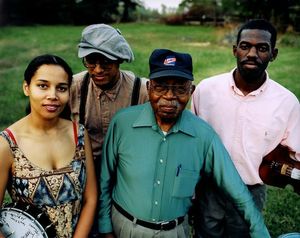 Joe Thompson's skills as a musician and teacher were already well known; he and his banjo-playing cousin, Odell Thompson, had been filmed by Alan Lomax for his American Patchwork TV series, recorded by folklorist Cecelia Conway for her landmark studies of African-American banjo playing, and invited to play in the Folk Masters series at Carnegie Hall.  After Odell's death in 1994, Joe continued to play and record, and he was awarded a National Heritage Fellowship by the National Endowment for the Arts, the nation's highest honor for a traditional artist, in 2007.  African-American string band music on banjo, fiddle, mandolin, and guitar, had once been common, but by the late twentieth century it was extremely rare; the Thompsons were among the last of the old-time black string band musicians still active.  It was therefore both fitting and felicitous that Joe's twenty-first century students would themselves form a string band.  When they did, they called themselves The Carolina Chocolate Drops as an homage to The Tennessee Chocolate Drops, a classic old-time black string band, which had originally played in the 1930s, and had revived their act in the 1970s as "Martin, Bogan and Armstrong." During this period, the Chocolate Drops played many tunes from Joe Thompson's repertoire, and often invited Thompson onstage as a guest musician; according to the band, "Joe's charisma and charm regularly stole the show."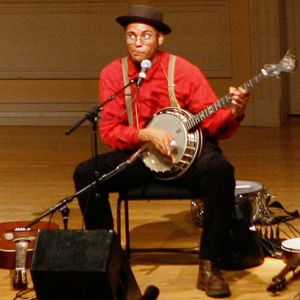 The Chocolate Drops found the idea of African-American old-time music on banjo and fiddle irresistible, but they all had musical interests far beyond that one area. Giddens was an opera singer, trained at the Oberlin Conservatory, who had developed an interest in contradance music and, through that, in Celtic music. She had played with her own Celtic band, Gaelywand, as well as fiddling and calling for dances. Flemons was an Arizona native whose interest began with a PBS program on the American folk revival, which had led him to take up the guitar and banjo as a street busker and coffeehouse entertainer. Robinson, who left the band in 2010, had similarly eclectic tastes.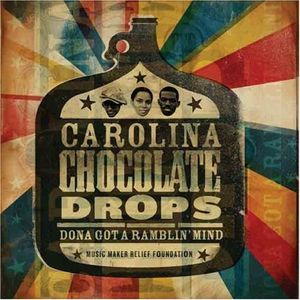 The Chocolate Drops started playing in town squares and farmers' markets, where they honed their playing and developed an enthusiastic following. They progressed from small festivals, including the Mt. Airy Fiddlers' Convention, to larger venues such as MerleFest, which is one of the largest music festivals in the United States, and attracts about 79,000 listeners to North Carolina each year. The Chocolate Drops shared the stage with previous generations of black old-time pioneers, including Taj Mahal. In 2007 they appeared in Denzel Washington's film, The Great Debators, and on Garrison Keillor's public radio variety show A Prairie Home Companion. In 2008, they played on an even more prominent radio show, The Grand Ole Opry, which is the longest-running live-music radio program in the world, and which plays an iconic role in American country music. While expanding their live audiences in all these ways, the Carolina Chocolate Drops also began recording. Their first two albums, on The Music Maker Relief Foundation label, were Dona Got a Ramblin' Mind (2007) and Carolina Chocolate Drops & Joe Thompson (2009).


In 2010, the band recorded a more experimental album, Genuine Negro Jig, showcasing a repertoire that ranged from Joe Thompson's "Cindy Gal" to Tom Waits' "Trampled Rose" to "Hit 'Em Up Style." The album was widely praised by critics and audiences alike. In February, 2011, it earned one of the highest honors possible for an American recording: it was awarded a Grammy award as "Best Traditional Folk Album." (In fact, it was the last recording to be so honored before the Grammy organization eliminated the category in its 2011-2012 reorganization.)  The Traditional Folk Grammy has tended to go to a folk, pop, or country superstar; previous winners had included Pete Seeger, Bob Dylan, Bruce Springsteen, June Carter Cash, Levon Helm, and the Chieftains.  The Carolina Chocolate Drops were the least famous group ever to win the award, and the only black group to win it since its very first appearance in 1987, when it went to Ladysmith Black Mambazo, fresh from their appearance on Paul Simon's classic pop album Graceland.  Needless to say, the Grammy was a game-changer for their career, bringing them to a wider and more mainstream audience than ever before.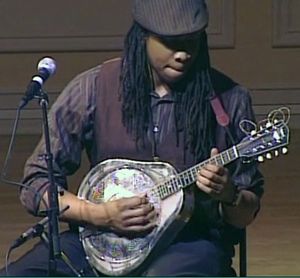 Soon after Genuine Negro Jig, Robinson left the band to spend more time at home. He was replaced by Hubert "Hubby" Jenkins. Jenkins, who started out as a rock musician but got hooked on the blues through Howlin' Wolf, had spent years as an itinerant musician, playing country blues, 30s jazz, and other styles. He was a natural addition to the group, which now includes Giddens on vocals, banjo, fiddle, and other instruments; Flemons on vocals, guitar, banjo, harmonica, quills, jug, and other instruments; and Jenkins on vocals, banjo, mandolin, guitar and other instruments. (Leyla McCalla is officially a guest musician with the band.) Together, the new lineup has recorded Leaving Eden, which was released in late February 2012, soon after the Library of Congress concert.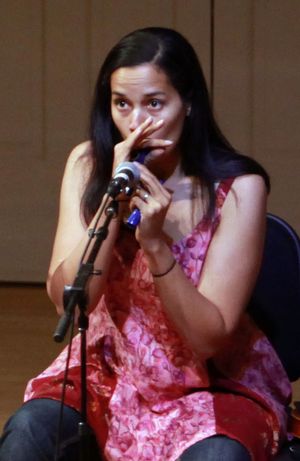 One thing that has helped define the Carolina Chocolate Drops is their willingness to learn from older musicians, whether in person, on commercial recordings, or on ethnographic field recordings. When listened to alongside commercial recordings, Dom Flemons pointed out in a 2011 interview with the Library of Congress, field recordings can help a listener "get a better sense of a musical style as a regional form by showing a fuller picture of both the styles that were popular enough to be on a commercial record, and the folk forms that would otherwise have slipped through the cracks. Many times people tend to forget that the 78 recordings were commercial recordings and no matter how 'folky' they may seem they were all marketed to a commercial audience."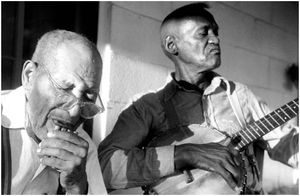 "Even having more than one player playing in an older style helps one understand the forms," Flemons continued. "For example, East Texas songster Henry Thomas recorded [commercially] in the late 20s, playing a very interesting frailing style on the guitar. The AFC Archives' [field] recordings of Pete Harris are the only other example of an East Texas songster playing in a similar style. They even play the same tunes in some cases…Thomas' 'The Fox & The Hounds' and Harris' 'Square Dance Calls' are the same square dance call and song pattern." Flemons has also visited the archive and heard all its recordings of "quills," traditional panpipes; as mentioned above, he plays quill tunes inspired by AFC recordings in his performances and recordings.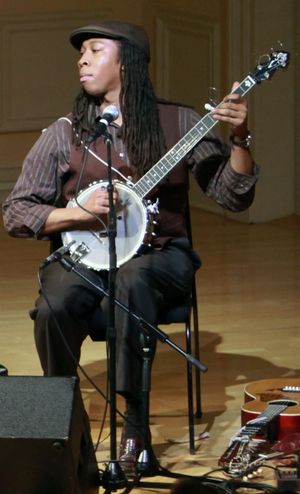 "The Archives are wonderful for both recreation and for adaptation and should not be limited to one or the other," Flemons said. "I have found a lot of inspiration there would recommend it to others. As more people are getting into the old-time music, I would hope more will look beyond just the commercial 78 recordings, and look to the archives to expand their knowledge and vocabulary in the old-time styles."


Several times on the Coolidge stage, Giddens showed off her excellent clog-dancing skills. Then, during the band's last number, Flemons left his chair and did a frenetic dance, in which he tossed his guitar up in the air, passed it through his legs, and went down into a split. In some ways, this last bit of showmanship summed up what had gone before: it recalled the Vaudeville and Grand Ole Opry banjo antics of Uncle Dave Macon, but also cakewalks, hucklebuck, and the soul stepping of James Brown and all the rockers who followed. Just like the concert, it was country, folk, and blues, a little bit hokey but strangely hip, and traditional without being staid.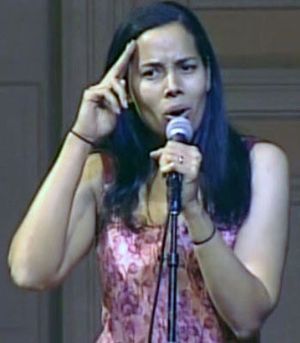 The skill, style, and depth of knowledge that all the members of the Carolina Chocolate Drops brought to their music was not lost on the Library audience, which included 490 people in the Coolidge Auditorium and a further 105 in the elegant Whittal Pavilion right next door (the latter watching on plasma screens). All the reactions we have heard are positive, and we're confident that most of our audience left the Library elated and satisfied. Both divisions are grateful for the opportunity to present a Grammy-winning act in such an entertaining and informative format, and we can only hope for more such fruitful collaborations in the future.

A PBS Crew attended the Library of Congress concert, and performed the following interviews.  You can see some clips from our concert in the segment, too!
Watch Carolina Chocolate Drops' Sweet Old-time Sound on PBS. See more from PBS NewsHour.
 
The videos below are provided as links by the
Carolina Chocolate Drops website
.  The first provides clips and interviews related to the Grammy-winning album, Genuine Negro Jig.  The second features a complete performance of one of the songs they performed at the Library of Congress.


Genuine Negro Jig Promotional Video