Cocktails With Father Christmas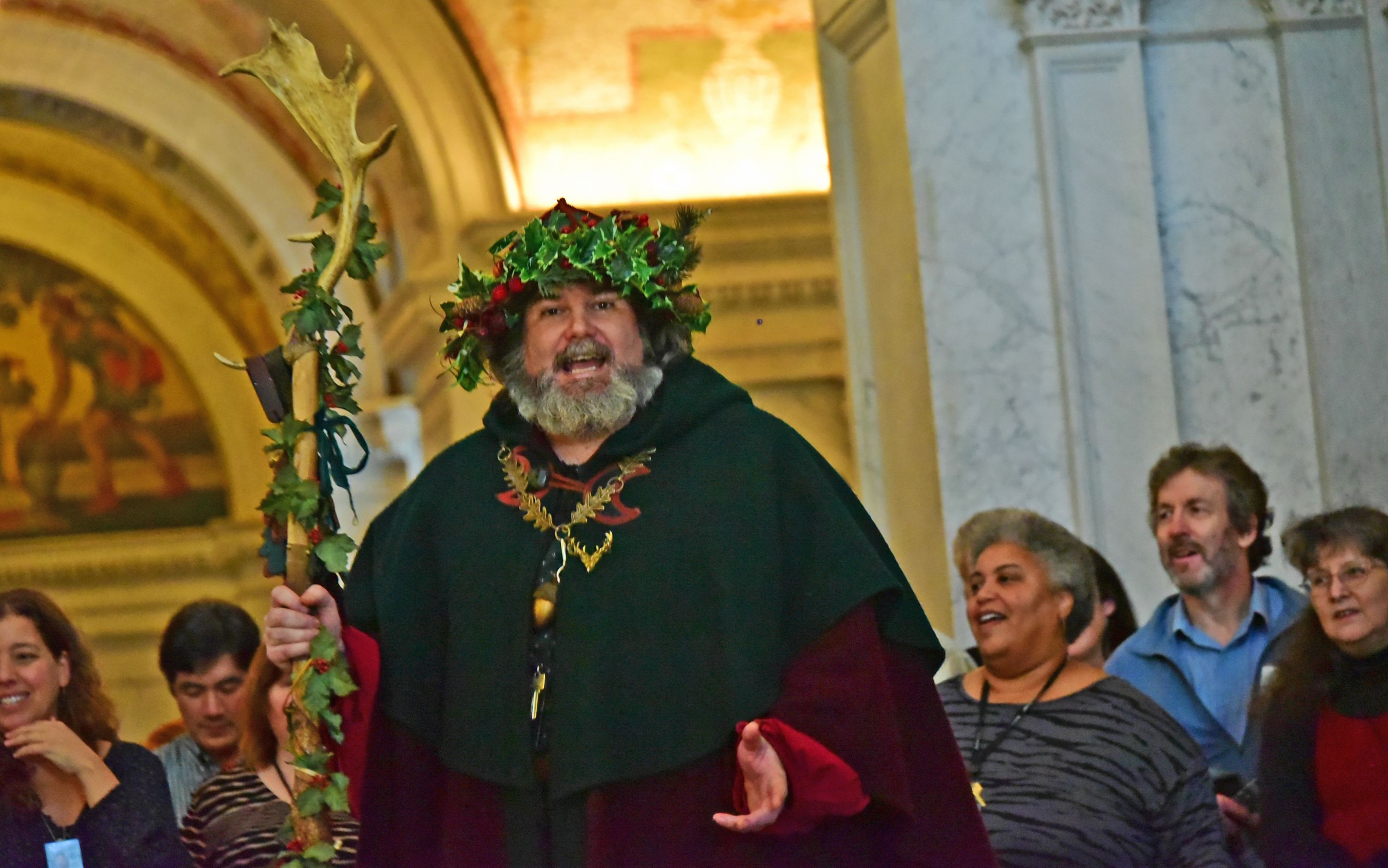 On December 21, 2021, the Winter Solstice, in a program exclusively for the Carterhaugh School of Folklore and the Fantastic, I'm presenting "Cocktails with Father Christmas." This will consist of singing traditional songs, discussion of winter traditions, and delving into folklore history, while we all drink cocktails (or Alcohol-free drinks) inspired by songs or by the season. My cocktail hour will be part of a larger event which will also include foodways, fairy tales, and fun associated with the Winter Solstice.  Join in the fun at this link: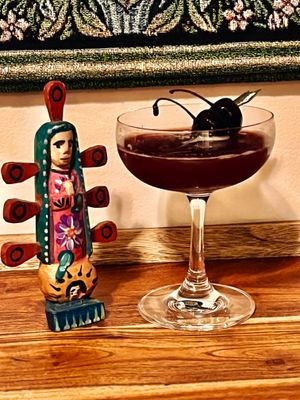 Obviously, attendees at a virtual gathering are welcome to drink any cocktails they like--or none at all!  But I'm an amateur mixologist, and I create cocktails based on folklore themes, including folksongs. So, since I'll be singing some songs that have inspired cocktails, I thought I'd share some recipes. Feel free to make any of these cocktails for the event...or later on!
As a general rule, these cocktails can be made in batches and stored in the fridge so you and your friends don't have to be making cocktails during the gathering. For best results, batch up all the ingredients except the juices. If it's shaken or stirred with ice, strain it off the ice into a mason jar and keep in the fridge. If you think of it, move it to the freezer about half an hour before serving…but it's better to skip this step than to let it freeze!  Right before you serve it (but it's OK to do this a few hours before), squeeze in the right amount of fresh juice for your batch, give it a shake without ice, and serve it out. 
You'll notice I use unusual bitters. Don't worry too much about this; Angostura or Peychaud's will be fine. But when you see spice bitters, and you have those spices in your spice rack, consider adding a shake to your shaker!
---
Father Christmas's Winter Wassail!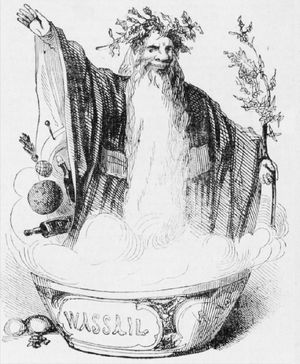 "Our wassail is made with the elderberry bough 
So now my good people, we'll drink unto though..."
There are many recipes for Wassail, and ingredients range widely from cider to beer to wine to hard liquor, mixed with fruit juices and spices. If you're making a large batch, it can be mulled over a low flame or in a crock pot for a long time to fully meld the fruit and spice flavors. However, you can approximate that pretty well with a brief period of simmering. I took inspiration for my wassail from a line in "The Gower Wassail" song which specifically mentions elderberry. 
3 oz. non-alcoholic cider
1.5 oz. bottled in bond apple brandy
(or 2 oz lower-proof brandy)
0.5 oz. elderberry liqueur (or substitute cassis)
Juice and peel of half a lemon 
Juice and peel of half an orange
Mulling spice blend and/or whole spices and/or spice bitters
(cinnamon, clove, allspice, etc.) 
Combine all ingredients except brandy in a saucepan and simmer for 10 minutes or so. Let stand a few more minutes to cool. Strain out the spices and peels. Transfer to a mug or drinking bowl, then spike with the brandy. Wassail!
---
Cherry Tree Carol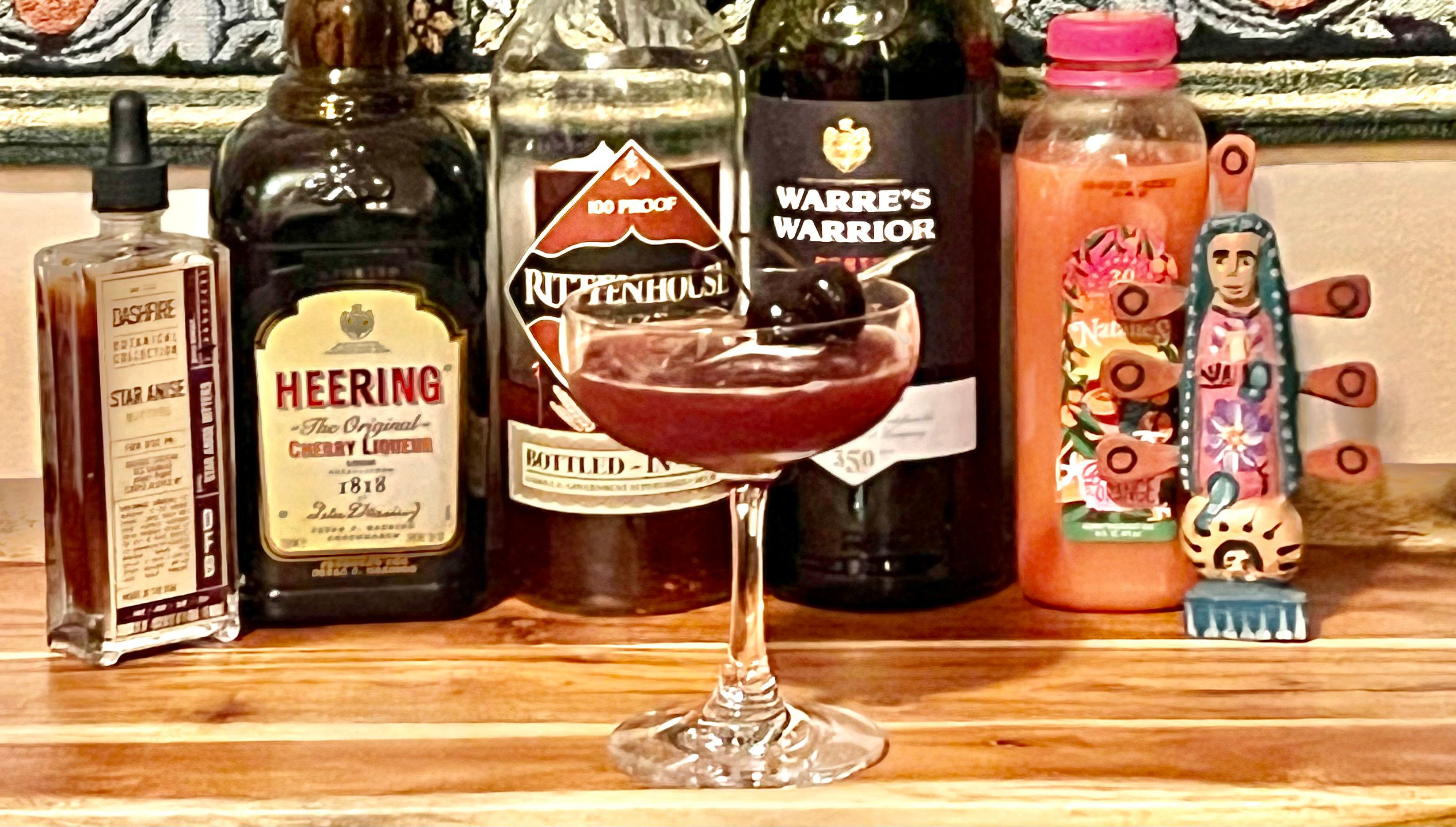 "Bow down, O cherry tree! Bow low down to the ground!"
Then Mary gathered cherries while Joseph stood around....
1 oz each of:
Bonded Rye Whiskey
Cherry Heering
Ruby Port
Blood Orange Juice
3 dashes spiced bitters: clove, cardamom, or allspice will all work.
Shake well with ice and serve in a chilled coupe.
Garnish with a cherry or two, or an orange twist...or both!
---
Old Roger Rum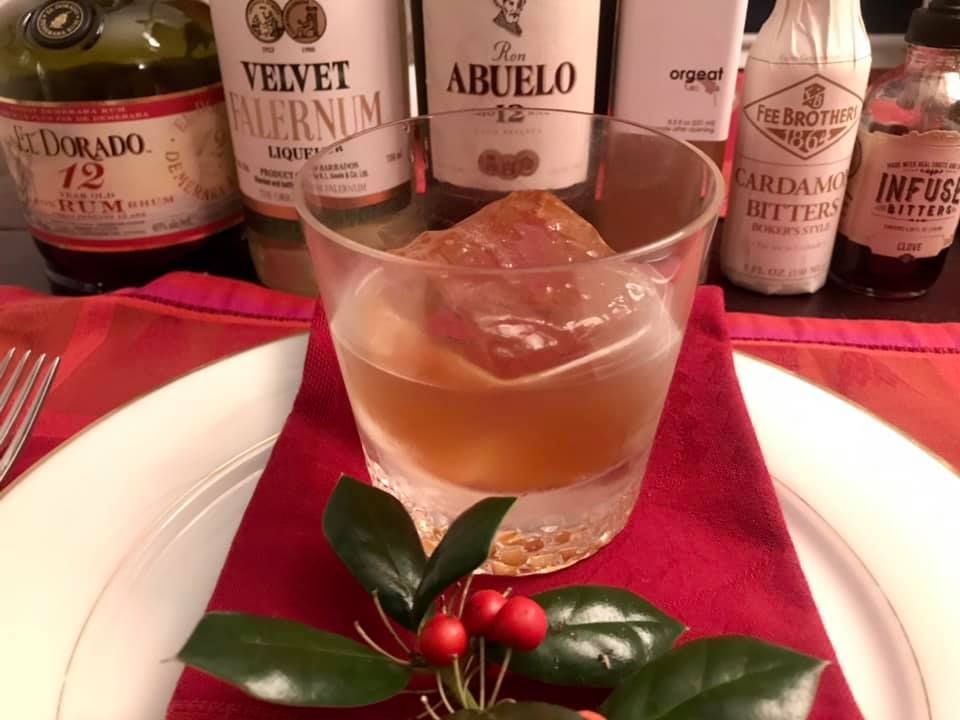 "Old Roger Rum, Old Roger Rum
Orgeat and Falernium, Glory Hallelu-li-a
Glory Hallelu-li-a, Old Roger Rum"
2 oz aged rum
0.5 oz velvet falernum
0.5 oz orgeat (almond) syrup 
1 dash clove bitters
1 dash cardamom bitters
Stir all ingredients well with ice and strain into a rocks glass over a single large ice cube.
You can garnish with a cinnamon stick or allspice pod.
Note: if you don't have orgeat, almond syrup intended for coffee should work. You could also use amaretto!
---
The Bitter Withy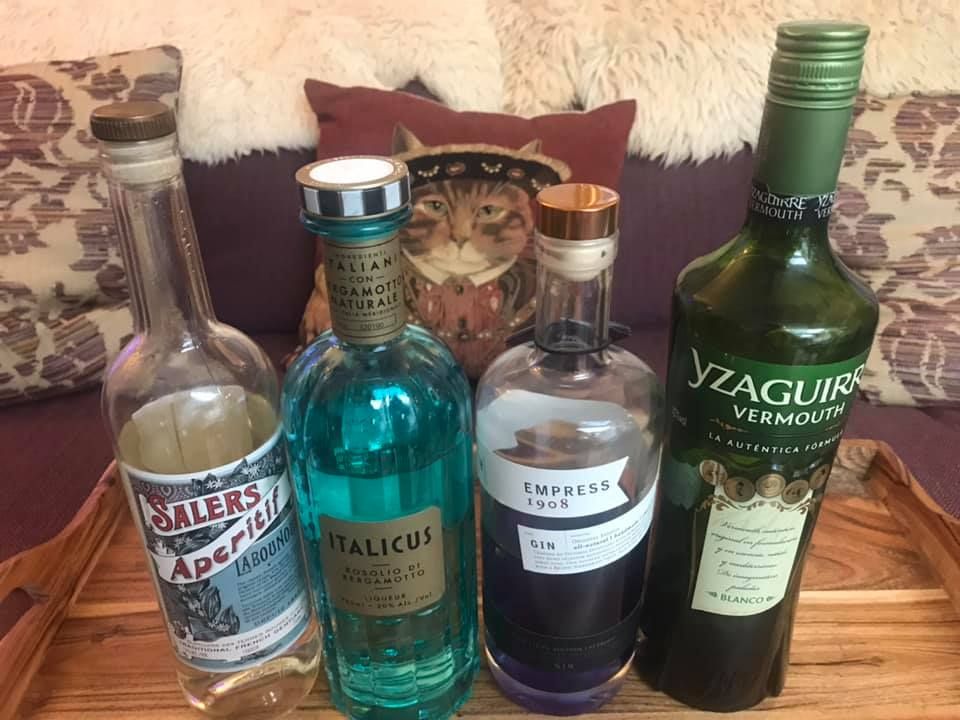 OK, this one is super easy once you have the ingredients:
Equal parts:
Salers aperitif (or another gentian liqueur like Suze)
Italicus rosolio di bergamotto
Empress 1908 gin (or another good dry gin)
Yzaguirre (or your favorite) white vermouth.
Stir with ice (or batch and refrigerate).
Serve over a large ice cube with a lemon twist.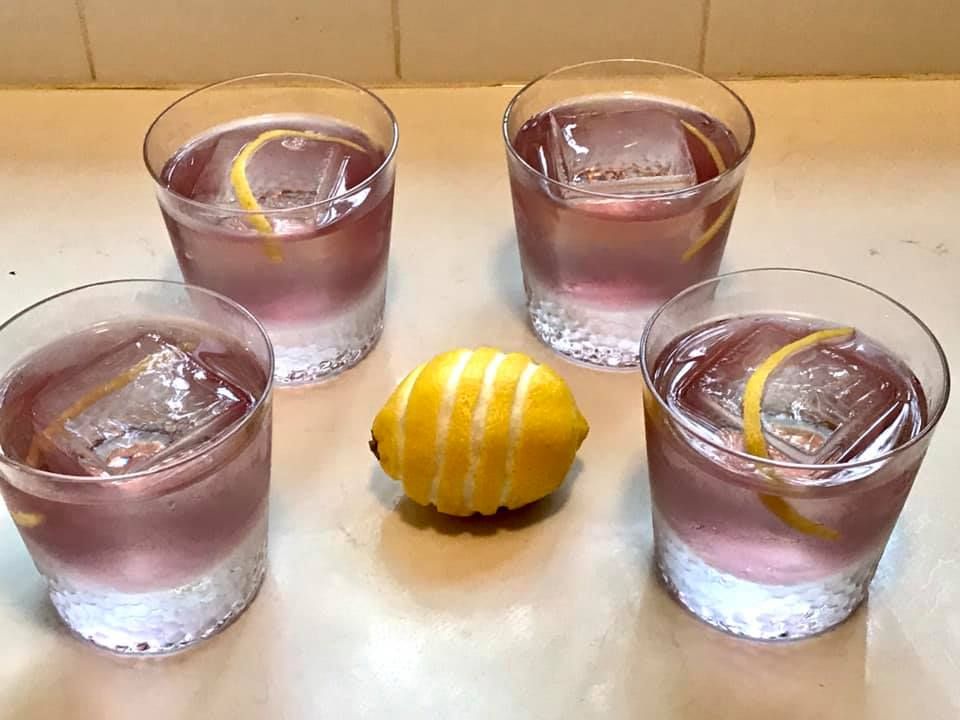 Here's what they look like with an example of my twist handiwork.
Note: you can use your favorite gin, but it won't be purple unless you use the Empress 1908. But you can use a different gin and add a squirt of butterfly pea flower extract--I use Blure brand--which is the same ingredient in Empress 1908.
---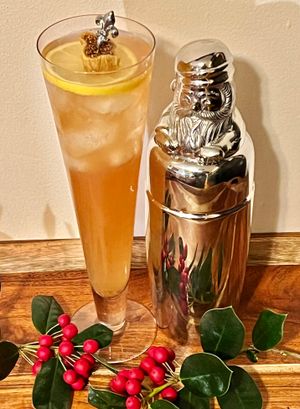 Fezziwig's Figgy Fizz
"The happiness he gives, is quite as great as if it cost a fortune."
1.5 oz. aged rum
0.5 oz. spiced rum
0.25 oz. tawny port or medium sherry
0.25 oz. lemon juice
1 heaping Tablespoon fig jam, preserves, or fruit spread
4 oz. of good dry tonic water
Dried figs for garnish
Shake all ingredients except tonic well with ice. Strain into a Collins or footed pilsner glass, top with the tonic water, stir gently, and fill with ice. Garnish with a slice of lemon and a slice of dried fig.
Note: This is definitely a drink to experiment with! Some spiced rums are very sweet and very spiced. You can adjust down to 0.25 oz. or even eliminate the spiced rum and use 2 oz. of good aged rum. Then you can add your own spices via clove or cardamom bitters. I also have a fig cordial and a fig vodka which could be used in place of the jam. Have fun with it--old Fezziwig would insist!
---
Sugar Plum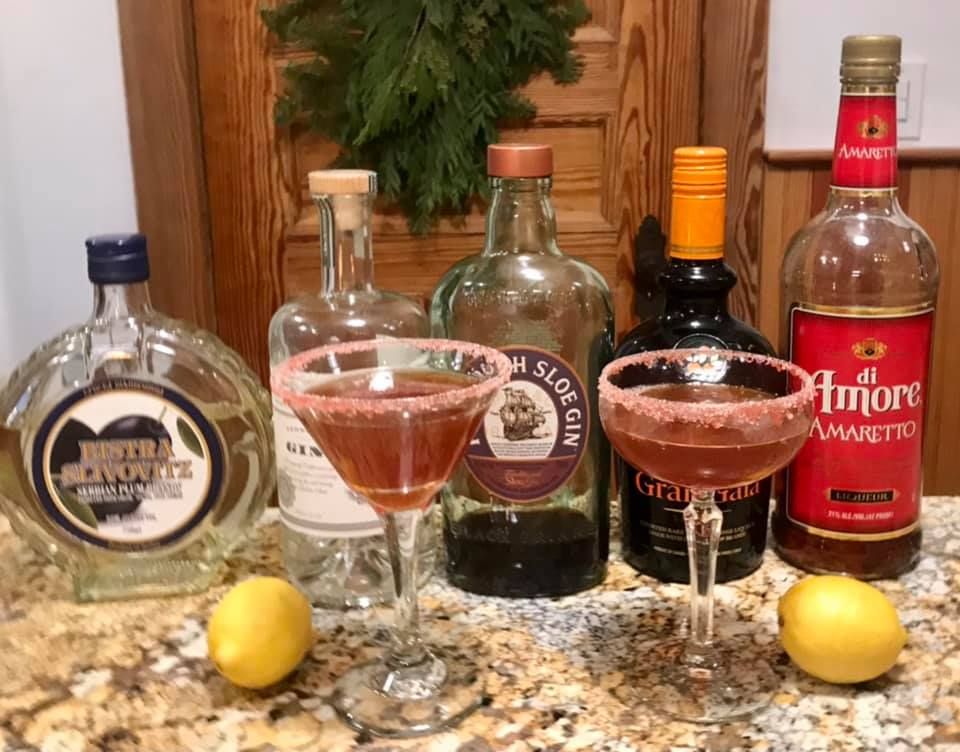 0.25 oz  St. George Terroir gin
0.5 oz slyvovitz
1 oz sloe gin
0.5 oz triple sec
0.5 oz amaretto
Juice of a quarter lemon
Two dashes of plum bitters
Shake all ingredients with ice and strain into a sugar-rimmed coupe glass.
(Hint: If you put a small amount of raspberry or strawberry Jello powder in the sugar, you'll have pink sugar!)
Note: it's good to use St. George Terroir gin because it's infused with Douglas fir.  If you can't find that specific gin, use a juniper-forward gin or one that has other evergreen notes!