Czechomor: Bouncing Czechs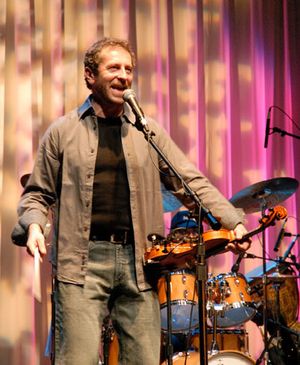 Article and Photos by Stephen D. Winick



"We make a bridge between history and how we live now," Karel Holas said. The "we" in question are Holas and the other members of Čechomor, the Czech Republic's leading folk-rock band. In speaking of a bridge between the past and the present, Holas is describing the problem that faces all musicians trying to bring old music to new people. Čechomor does it now through an electric folk-rock sound reminiscent of English bands like Steeleye Span, Fairport Convention, and especially the Home Service. In September, 2006, the band brought this sound to Washington, D.C., to play a concert on the Kennedy Center's Millennium Stage. While they were in town, I invited the members to visit me at work at the American Folklife Center of the Library of Congress. I gave them a tour, played them some of our Czech materials, and then sat them down for an interview…at which point a small problem became apparent: I could speak French, Spanish, and English, while they could speak Czech and German. Bandleader and fiddler Karel Holas was the best English-language spokesman, but our conversation was strained by the lack of a strong common tongue. ("I'm sorry," Holas said with a twinkle in his eye. "I am a poet. But not in English!") Still, we covered Čechomor's history and approach in our conversation.
Given the pedigree of Čechomor's musicians, you might expect exactly what you get: energetic, gutsy music with the complexity of a chamber orchestra, the syncopation and swing of big-band jazz, and the fire of Celtic rock. Karel Holas is a good example of the varied backgrounds the members bring to the group: He graduated in classical violin from the conservatory in Brno, has played in many Czech bands such as Etc., Zoo, Tři Sestry, and Dobrohošt, and has collaborated with Czech stars Marta Kubišova, Vladimír Mišík, Oskar Petr, Petr Novák, Jaromir Nohavica, and others. In 1989, he founded the Czech Celtic rock band České Srdce ("Bohemian Heart"). "It's not so far from our country, Celtic music, because the first people were Celtic people in our country," Holas explained, referring to the Boii, the Celtic tribe that gave its name to Bohemia.

Holas's Celtic group brought him in contact with Breton bandleader Alan Stivell in the 1990s. "We met at a concert in Brittany, with a painter called Reon - his Czech name is Jan Zahradnik," Holas told the Czech magazine Vikend in November 2006. "He invited us to the grand opening of his exhibit, where Stivell played on his harp. When he began his hit song, 'Tri Martolod,' I spontaneously accompanied him on my violin. That day, we decided to put together a joint concert at Lucerna called 'Celtic Christmas in Prague.' Three weeks later, it happened - and it was totally sold out. Then, I asked Alan if he would guest on our CD Srdce z Avalonu. When I asked how much it would cost, he replied with a smile, 'It will not cost you anything, but I want something from you.' I immediately began to sweat, picturing myself painting a fence in Stivell's backyard or moving wheelbarrows full of bricks! But Stivell asked me if, in return, the guitar player from České Srdce and I would play on his planned recording, Again, which featured a number of guests. Only after the album was produced, did we realize that we played on it alongside Kate Bush and Shane MacGowan from the Pogues. And then Alan took us on a long tour with his band, promoting this album." From 1993 to 1995 Holas played fiddle in Stivell's band and toured all of Europe. Holas credits his time with Stivell as a major inspiration for the arrangements of Čechomor. "When I played with Alan the first time, I really got inside Breton folklore. And inside my head, it started me to do something more with arrangement."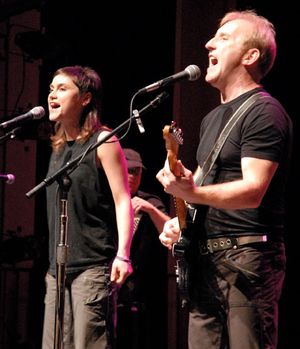 Holas isn't the only heavy-hitter in Čechomor. The group's other frontman, František Černý, is a singer, songwriter, composer, and guitarist who has won several awards at the prestigious Porta folk festival with the bands Kanafas and Povijan and also played in the rock bands Kapitol and Verze 5. Like many on the Czech folk scene, he has also been involved in theater, both as a puppeteer and a dramaturge. The group's most versatile instrumentalist, Radek Pobořil, graduated in both trumpet and accordion from the conservatory in Ostrava, and has since contributed to some 80 albums as a true session workhorse. For 15 years he was also a member of the National Theatre Orchestra in Prague. He teaches jazz improvisation when not playing with Čechomor. Cellist and bagpiper Michal Pavlík graduated from the State Conservatory in Prague under leading cellist František Pisinger, and also studied jazz with Karel Velebný. He has played cello and keyboards in many leading Czech pop and rock bands, including 5P, Jana Kratochvílová, Lesek Semelka, and Tango, and he led the band Flop. In the early 1990s he was a member of Petr Nováḱs legendary group, George & Beathovens, as well as the Vít Quartet. The latest addition to the group, drummer Roman Lomtadze, was born in Tbilisi, Georgia, and hails from a family of musicians. He got his start on many instruments at an early age, including violin, flute, French horn, and bass guitar. In 1992, his parents were hired as violinists by a theater company in the Czech Republic, and after moving there Lomtadze was accepted by the State Conservatory in Prague. During his second year of studies he went professional with the band King Size. Later he played with Ivan Myslikovjan and the Blue Birds, Milos "DODO" Dolezal and the band Eleison, Laura and her Tigers, and others. Lomtadze became a member of Čechomor in January, 2004.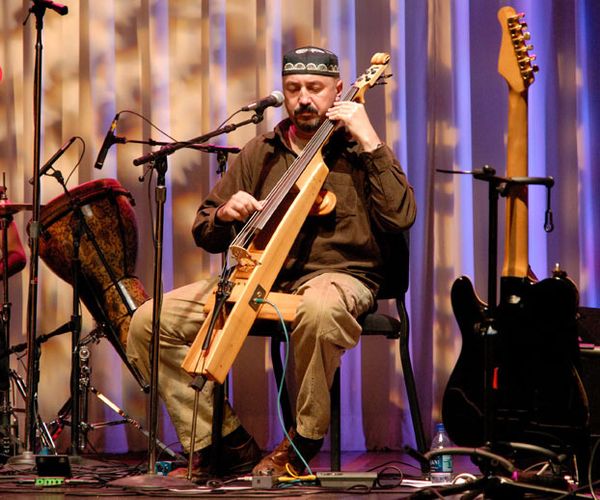 The band hasn't always had such a tight lineup. Nor has it always played with such conviction and creativity. Holas recalled the group's early days. It started in 1988, as a loose group of musicians playing for outdoor fairs. "Every weekend we had markets where the 'old arts' were presented to the people. In Prague there was an area where all the workers would go. There were seven small areas in the park, and the musicians would go to play there." Such markets existed not only in Prague, but in towns all over the country, and they were the mainstay of traditional-style musicians in Communist Czechoslovakia. Holas recalled the artificiality of these markets, explaining that if you wanted a drink, you had to buy a ceramic token for the beer stand. Often the musicians would be right next door, playing for the people drinking and queuing for beer. This scene gave the musicians a chance to play, but not to be very creative. They were locked into playing the most popular songs, over and over, week after week. They were not professional musicians, though, so they approached it as a lot of amateur cover-band artists do: a decent opportunity to parlay musical talent into extra spending money.

Still, some of them yearned for more. After two years of solid playing most weekends, they had had enough of the same songs, and, as Holas put it, "resolved to do something new with this music." Černý eventually provided the impetus to change by acquiring an important book, a collection of Moravian folksongs made by the 19th-century collector František Sušil. "This is a really big book, with over three thousand songs," Holas said. "We looked in there, and found new songs, and we started to do new arrangements." Moravian folk songs, they explained, were more of an undiscovered country than their Bohemian counterparts. Moravian music has more influences from both the east and the south, while Bohemian music is more Western European. Furthermore, Moravia has a more complicated history of warfare and movement of peoples. Finally, Moravians are more religious, and in other ways more traditional, than their Czech neighbors. "There are more areas with special dialects, and special dances," Holas explained. "Every 10 villages is an area, and another 10 villages is another area. And there's a difference between the people who live on a little hill, and those who live by the river. And these differences you can see in the music. So we use songs from all areas, or even from over the Polish border. Sometimes we can make music trips in the east or in the south. It's a good adventure for us!"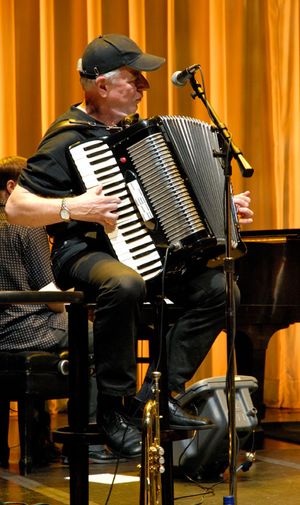 Stylistically, it's been an adventure, too. "We slowly transitioned from an acoustic style to an electric style," Holas said. "Two years after I joined Čechomor, we were still playing country fairs." A few years later, they were playing rock festivals. During this transitional period, they recorded two albums, first Dověcnosti, which was credited to "1 Českomoravská Nezávislá Hudební Společnost (First Czech and Moravian Independent Musical Company)," and then Mezi Horami, credited to "Českomoravská Hudební Společnost (Czech and Moravian Musical Company)." After those two records, a turning point came when founder and string player Jirka Brenek, whom Holas calls "the spirit and engine of the band," died of cancer. "With Čechomor, that's a very sad memory," Holas told Vikend. "We came to play at Jiri Brenek's funeral. It was November, a raw day, and incredibly frosty. The mass was over, the casket was being carried out of the church, and we had to start playing -- but all the keys on Radek Poboril's accordion froze shut. So only Franta Černý and I played. And then suddenly the sky opened, the sun started shining, we finished playing, and Jirka was gone."

After Brenek's death, some bandmates wanted to call it a day, but Holas and Černý didn't waver. "Jiri was working so hard on moving Čechomor forward," Holas decided. "It would be foolish not to continue. If we find out that we can't do it without him, we can leave it then." They did, however, enter a period of rethinking, re-arranging, and electrifying. In 1999, they played to some of their largest audiences, and made it onto Czech TV. There they were spotted by David Koller, a former bandmate of Pavlík's, who directs Lucie, the most successful Czech rock band. Koller asked the band, still called Českomoravská Hudební Společnost, to support him on his next tour. On that tour, they rediscovered their rock and roll roots. They emerged with a punchier sound, the makings of a new album, and, of course, a shortened name. 2000 was the year of Čechomor.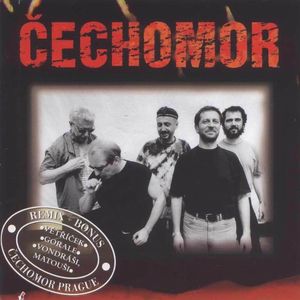 In many ways, Čechomor is their real breakthrough album. On the second record, Mezi Horami, all the ingredients are there: some of the instrumentals have the rock energy, many of the vocals have the edge and attitude, and all the players have the chops that would mark their later work. Each of the first two albums had female guest singers, which would also be a prominent feature of later Čechomor. But the third album, Čechomor, puts the elements together in a new way. Vocals leap out of the speakers, the baritone close harmonies producing an urgent, "low lonesome" effect. The fiddle has the raw electricity and springiness that English-speaking listeners would associate with Dave Swarbrick and Fairport Convention. The hard-hitting drums give it a definite rock edge, and the touches of folk and jazz instrumentation (mandolin here, trumpet there) give it depth and variety. Tracks like "Větříček" emphasize the group's Celtic leanings, while the very Slavic rhythms of cuts like "Pivničková" will remind listeners of the Ukrainians. A few, like "Hruška," raise the hair on your neck, and might be considered among the best folk-rock songs from anywhere.

Čechomor also introduced a female vocalist who has become a longtime guest of the group, Lenka Dusilová. Normally a pop singer/songwriter and leader of the band Secret Service, Dusilová is a regular now with Čechomor; she even came on their 2006 U.S. tour and participated in the interview. How did she come to hook up with Čechomor?

"We had folksongs," Holas explained, "but we were trying to reveal their other faces. We were looking for a woman singer. So we started to think about Lenka, because she sang a different music, but I heard in her something I thought we needed."

At first, Dusilová wasn't sure. She agreed to try it, however, and everyone enjoyed the result. "Before, I didn't sing any folk songs," Dusilová said. "So it was a challenge to do something new, and I like to sing with them. There's very good energy on the stage, and these people play so well."

For Čechomor, the band members also solidified their approach to arranging folk-rock. "We like to find songs that not too many people know," Holas declared. "This is the first point. And then we work on the lyrics. And then we see how to play it. We arrange it first maybe for just violin and guitar, and then we see what the instruments can do." At that point, it's down to elbow grease. Just thinking about the balance of instruments doesn't work for them; they have to get in there and play. "You don't know," Holas said. "You must try. You can do many things with folk music. Sometimes you make an unhappy combination, but if you do, you'll know this way is closed, and you must take another way. And sometimes we play in a concert, and you feel on the stage if you can use this arrangement, this idea, or not."

One of the things they do quite regularly is to shorten songs and tunes from their traditional versions. "They really like to play a long time," Holas said of Czech traditional musicians. Part of Čechomor's job as a band is to take a long performance of a tune, repeated over and over, or a long ballad with repetitive verses, and whittle it down for modern audiences, who generally have shorter attention spans and more activities to fill up their long winter nights. "Some ballads, which have up to 30 verses, we brutally shorten," Holas admitted to Vikend. "In the original version, Anicka (Annie) goes to fetch the water three times before somebody throws her in the river. Well, in our song, she goes only once!"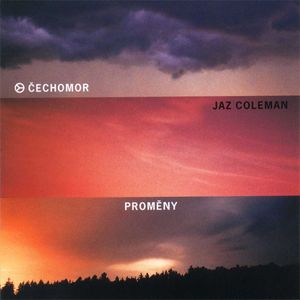 If 2000 was the group's breakthrough into a new sound, 2001 saw it hitting new heights of popularity. Two projects
were behind Čechomor becoming a household name in its home country. First, the album Proměny, and then the film Rok Ďábla. To describe Proměny, whose title means Transformations, Holas struggled to find the right English word. He seemed to be looking for either "serendipity" or "synchronicity," one of those happy coincidences that leads to unexpectedly pleasing results. In this case, a friend of Pavlík, who runs a software company, was putting on a private New Year concert for friends and clients. He asked Čechomor to perform four songs with a chamber orchestra.
"So we chose the chamber orchestra and we set the date, and we said yes," Holas remembered. "The date was January, and it was October, so we had time." Holas was thinking about who would score the orchestra parts, when he happened to see a TV show featuring Jaz Coleman, formerly of British punk band Killing Joke, who had turned to classical music. Coleman was in Prague, so Holas decided to get in touch. "So I called him. He said, 'Okay, I'll be in November back in Prague.' And [when he got back] he said, 'I can't do so much work for four songs. If I do it, it'll have to be a whole project.' So we did Proměny. It was quick work; we chose our old songs, and Jaz Coleman helped arrange them with the orchestra and produced it." Proměny, recorded with the Czech Philharmonic Collegium, sold over 80,000 copies — four times more than their already-successful Čechomor. Proměny went on to win three Czech Music Academy Awards for Best Album, Best Group, and Best Song. From that time on, everyone in the Czech Republic was familiar with Čechomor, and, as Holas put it, "Musically, we could do whatever we wanted."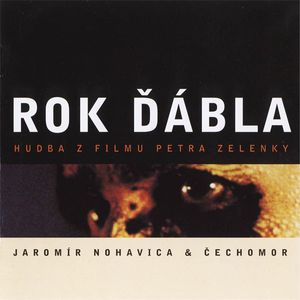 During that same period, the band was involved in making a film, Rok Ďábla (The Year of the Devil), which is a somewhat satirical music mockumentary starring an only slightly fictionalized version of Čechomor. It was filmed on an actual tour that had been arranged for the film. "We had a tour with a famous folksinger, Jaromír Nohavica. After one concert, [the film director] Petr Zelenka appeared and said, 'I want to film this tour, and do a movie about what you're doing here.' I said, 'Write a screenplay and we can do it.' And after three months, he had it!" The band had no choice but to go back on tour with Nohavica and make the film, which foreshadowed a lot of the group's actual success in the following year. "In the film we performed for large audiences. After the film, it came true. When we started the movie, we had already finished Proměny. By the autumn, things were beginning to come true. Within a year, everything that was shot came true. It was a big mystery! It was a miracle for us!" Released in 2002, Rok Ďábla won the Crystal Globe at the Karlovy Vary Film Festival and went on to win a total of seven Czech Lion awards (the Czech equivalent of the Oscars), including Best Soundtrack.

What happened next was, well…What Happened Next, recorded and released in 2005. For this album, whose Czech title is Co Sa Stalo Nové, the group worked on material for several years. Because of Proměny, which was made up of orchestral arrangements of material the band already played, and Rok Ďábla, which also used material from the group's repertoire, the members spent a long time touring with the same songs. Along the way, they put together the arrangements for their next project, but they didn't have time to record it for almost four years. They re-worked and re-worked many of the songs and finally thought they might benefit from an outside ear. Enter Petr Dorůžka, a world music journalist and guru in Prague. Dorůžka suggested that Čechomor hook up with English world music producer Ben Mandelson. Mandelson listened to the band's arrangements and made suggestions that surprised and pleased the band members; Holas told me that some songs, which they thought were perfect, became "twice as good" after Mandelson played with the instrumentation.

For Co Sa Stalo Nové, the band invited several guests to perform. One was Irish singer Iarla Ó Lionáird, lead voice of Afro-Celt Sound System. "He responded very creatively," Holas said. Although Čechomor had originally wanted to have Ó Lionáird sing his song in English, Ó Lionáird convinced them it should be in Irish Gaelic. He took the English version they had prepared of an old Moravian murder ballad and translated it into Irish. "Today, I know this was the right decision," Holas said. It's hard to argue with the results: Ó Lionáird's honeyed voice, Czech bagpipes played by Pavlík, uilleann pipes by guest Dan Vališ, and a mournful text about betrayed love and murder make a powerful combination.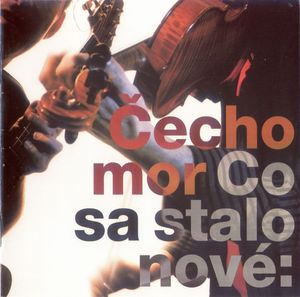 Similarly, for the title track, which is set in the Napoleonic wars, they invited Joji Hirota, a leading Taiko drummer and composer based in England. Hirota's music is based on classical Japanese forms, but he is also a composer of dramatic music for the Royal Shakespeare Company, among others. Čechomor's drummer Roman Lomtadze recalled seeing Hirota set up his drums before the recording session: "Just from his movements, I could tell it would be extraordinary!" Hirota based his drum intro to "Co Sa Stalo Nové" on Japanese drumming sounds used to purify warriors before combat; it makes a fine, atmospheric opening. While Hirota was in the studio, the members of Čechomor found out he also played Shakuhachi flute. In consultation with Mandelson, they decided to use the sound on an old, evocative Wallachian song called "Malovaný Kostel (The Painted Church)." Other guests include Dusilová, who sings two songs, and Jan Mikulšek, who plays cimbalom on several tracks.

Co Sa Stalo Nové was released to both popular and critical acclaim. It sold 20,000 copies in its first week and spent its first six weeks at number one on the Czech pop charts. Ken Hunt, writing in fRoots, called it "a contemporary folk masterpiece," and enthused, "It is as revelatory-revolutionary in its way as, to put it in U.K. terms, a roll-up of Fairport Convention's sod-crunching Liege and Lief, the Home Service's Alright Jack, and Brass Monkey's debut." After that, there isn't much to say, except that it's a thoroughly enjoyable and compelling listen.

Čechomor has followed up its last three studio albums with live albums of that era's set. So 2002 saw the release of Čechomor Live, primarily made up of the Čechomor material, and 2003 saw the release of Proměny Tour 2003, a double CD featuring 28 songs played by Čechomor with the full orchestra. Proměny Tour 2003 also exists as a DVD, featuring the whole concert plus extras. Finally, in 2006, Čechomor recorded some of the concerts supporting Co Sa Stalo Nové, and released Stalo Sa Živě, as a live concert CD, and also a DVD video. The DVD is packed with extras, including a "making of" documentary.

What happens next for the band? The group members had no specific plans to talk about, but they planned to tour a lot. "Just Play," they all said. Recently, their U.S. tour director, Yonas Media, has announced a 40-date North American tour for the fall of 2007. Who knows — it might be your chance to Czech 'em out!