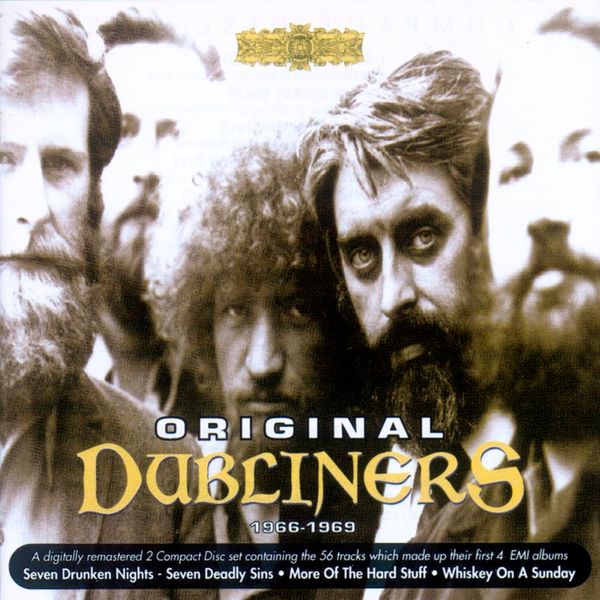 The Dubliners
Original Dubliners
EMI CDEM 1480 (1993)

by Steve Winick

Originally Appeared as "Shaking Out the Sheets: Dirty Linen Classics" in Dirty Linen #60 October/November 1995

Later appeared, in partial and plagiarized form, In English, German, and Spanish, as the liner notes to the Dubliners CD The Dubliners with Luke Kelly: Special Collection [ARC EUCD 1533 (1999)], on the ARC Music Label.


In the history of Irish music, no group has created and maintained its niche as effectively as the Dubliners. At the beginning of "the ballad boom," that heady time in the early 60s when the Clancy Brothers made "folk songs" a meaningful category that ordinary people could relate to and take pride in, the Dubliners began their own career. Whereas the Clancys were well-scrubbed returned Yanks from rural Tipperary, decked out in matching white Aran sweaters, the Dubliners were hard-drinking backstreet Dublin scrappers with unkempt hair and bushy beards, whose gigs seemed to happen by accident in between fistfights. But their street credibility, their undeniable talent and their honest love of the music has kept them going and made them some of the most famous Irishmen in the world. For those who want a peek at their early career, EMI has released Original Dubliners, a two-CD set featuring the Dubliners' first four albums for EMI, recorded between 1967 and 1969.

It should be said that, contrary to what the sleeve notes claim, these were not the first albums the Dubliners recorded. But they were among the albums that put them in the international arena, and they included some of the songs most associated with the Dubliners' name. "Seven Drunken Nights," the title song of their first EMI outing, was the track that made them a household word in Britain and Ireland. One of the most popular folksongs in the English language (included by Child in his book of British ballads as #273, "Our Goodman," and collected all over the world, including from rural black laborers in the American south and from African American youth in Philadelphia), the song is so bawdy that rarely is it recorded or published intact. The Dubliners' version, which only reaches five nights, was originally recorded for a 1967 album called The New Dubliners on the Major Minor label. It was released as a single, but when the official media banned it for obscenity it looked like it would languish in obscurity for good. Luckily for the Dubliners (and for the world), it was picked up the pirate station Radio Caroline and given saturation airplay. As a result, it shot to number five on the British Pop charts, launching the Dubliners to stardom.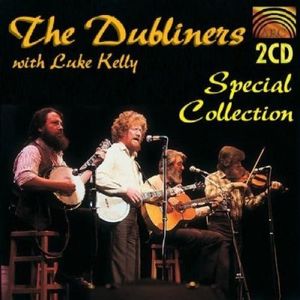 "Seven Drunken Nights" set the stage for their later LPs and singles, but it was the talent and attitude of the band that made those records work. The Dubliners had everything: Ronnie Drew, whose gravelly, booming voice and guitar playing still fronts the band today, was offset by Luke Kelly, a serious, introspective man who played five-string banjo and sang with a soaring triumphant voice. Ciaran Bourke, their third vocalist and second guitarist, also added songs in Irish and exuberant tin whistle playing. John Sheahan's fiddle and Barney McKenna's tenor banjo were influential on a whole generation of performers, and added a dimension to the group that the Clancy clones never had: jigs, reels and hornpipes. In fact, The Dubliners were among the first groups to combine the ballad group sound with traditional instrumentals. In this they anticipated later groups like Sweeney's Men, the Johnstons, and ultimately Planxty, yet the Dubliners are often overlooked when those three bands are mentioned. Ironically, I think this is partly due to The Dubliners' success and longevity. Sweeney's Men, The Johnstons and Planxty had members who became successful solo artists (Christy Moore, Andy Irvine, Paul Brady, and Mick Moloney) as well as future members of The Bothy Band, Steeleye Span, The Woods Band, De Danann, Patrick Street, Moving Hearts and The Pogues. This creates the impression that the Irish music scene was spawned from those three groups. The Dubliners, on the other hand, never broke up, so they never contributed musicians to later seminal bands. They have always been the Dubliners, and will always be among the spiritual grandfathers of most of the Irish traditional and folk groups playing today.

What is offered on Original Dubliners are the band's first four albums after their initial success, entitled Seven Drunken Nights, Seven Deadly Sins, More of the Hard Stuff, and Whiskey on a Sunday. It was these albums that established the Dubliners as an enduring presence and not a one-hit wonder. They include memorable and influential interpretations of many great songs, including Kelly's renditions of traditional songs like "Whiskey in the Jar," "The Rising of the Moon," "Black Velvet Band," "Poor Paddy on the Railway," "A Nation Once Again," and "Gentleman Soldier." Kelly also sings three songs by his friend and mentor Ewan MacColl, "The Traveling People," "Shoals of Herring," and "Net Hauling Song," as well as many Scottish songs that he picked up during his years in Britain. For his part, Drew contributes some of the racier, bawdier, boozier material: "Seven Drunken Nights," "Poor Old Dicey Riley," "Quare Bungle Rye," "Whiskey on a Sunday," "The Parting Glass" and "A Pub With No Beer" are all supplied by him. Bourke sings a few, as well, though his voice was weaker and creakier than those of his bandmates. "Darby O'Leary," "All For Me Grog," "Drink it Up, Men," "Mrs. McGrath," (a pastiche of the traditional song based on his own life) and "The Limerick Rake" are all sung by Bourke. Many sets of tunes, including a memorable version of "O'Carolan's Concerto," are led by McKenna and/or Sheahan. All of these are classic tracks that would irrevocably change the way the world saw Irish music.

These albums are certainly historical documents. In 1974, Bourke suffered a brain aneurysm that left him unable to play or sing. He passed away in 1988. Luke Kelly passed on in 1984, after two operations for brain cancer. The Dubliners continue, with Sean Cannon and Eamonn Campbell added to the core of Drew, McKenna and Sheahan, but there will never by any more Dubliners albums quite like these. And yet, it's surprising how fresh, vital and listenable they remain to this day. Far from being a mere historical oddity, or a even a trip down memory lane, Original Dubliners is imbued with that spark of life that first made me love Irish music, and that still makes me love it today. My tastes, like the tastes of many, have changed. Groups like Altan and Arcady are touring the world. But in every Irish music lover's collection, there will always be room for these albums, albums that in many ways started it all.