Squid-and-Bigfoot Mummers Play
Introduction
: The Newfoundland-and- Saskatchewan Squid-and-Bigfoot Mummers Play and Mock Wedding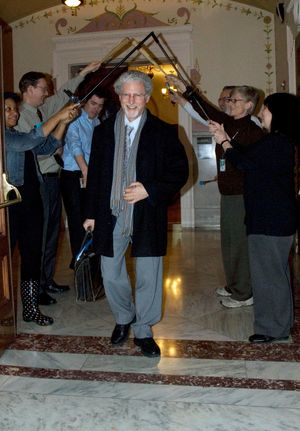 On the occasion of the retirement of Dr. Michael Taft, his colleagues at the American Folklife Center of the Library of Congress presented a rare production of one of Michael's greatest finds as a folklorist, "The Newfoundland-and- Saskatchewan Squid-and-Bigfoot Mummers Play and Mock Wedding," a very unusual piece of folk drama unknown from any other sources. Interestingly, Michael collected nearly identical versions of this play twice, once from Izzy Noseworthy of Witless Bay, Newfoundland, while both were attending graduate school at Memorial University of Newfoundland, and once from Figment McGillicutty of Big Stick, Saskatchewan. Sadly, both informants passed away soon after conveying the play to Michael, and before any other scholars had a chance to meet them, so we have no way of knowing what other gems of traditional lore they might have had. In fact, no one else in either community had any clear recollections of these informants at all. Of course, this makes Michael's documentation of their wonderful folk play all the more important as a feat of historical ethnography.
[1]

During the production, Folklife Specialist Guha Shankar bravely snapped photos of the play.  Unfortunately, his photography was affected by the famous "Bigfoot Effect," which renders all photos of Bigfoot and his companions blurry and grainy.  Nevertheless, we include some of his photos here.

The Great folklorist Otto Willwood once called Michael Taft "a reluctant pioneer in the burgeoning field of Bigfoot studies."  We believe this play demonstrates Dr. Willwood's point.

The Newfoundland-and-Saskatchewan Squid-and-Bigfoot Mummers Play and Mock Wedding

Dramatis Personae

Bass-Ackwards (Stephanie Hall)
Bigfoot (Stephen Winick)
Beelzebub (Brock Thompson)
Ethnosaurus (Valdasaurus Morris)
St. Michael the ArchiveAngel (Bert Lyons)
Squire David (Todd Harvey)
Hell's Catalogers (Margaret Kruesi and Catherine Hiebert Kerst)
Big-Eye Squid (Jennifer Cuttlefish)
Doctor (Thea Austen)


Cast enters singing "O Canada." After "My home and native land," the singers become increasingly unsure of the words and tune, and eventually fizzle out.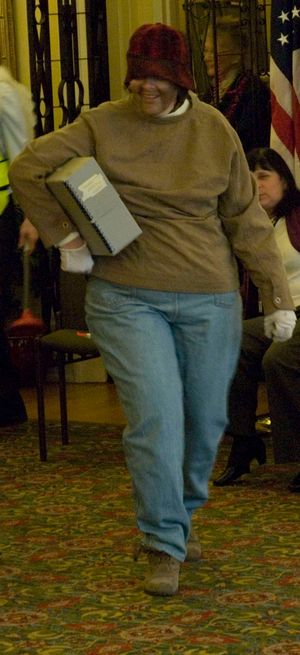 Bass-Ackwards
In comes I, old Bass-Ackwards
From the reading room I have traveled stackwards
From old Manila, where the envelopes grow
To the town of Mylar, where the dust can't go,
I have moved, rehoused, preserved, and accessioned.
And now I have handled every collection
So I've come to report to my archive head
About crumbling acetate, and sticky shed
Paper going brown (from acid, I'm guessing)
Tapes that smell like salad dressing
Cylinders and spools of wire
fieldnotes damaged by water and fire
But whether it take a year or a day
Here is Bigfoot, to clear the way!

Bigfoot
Room, ROOM, little runts, give Bigfoot room to rhyme
Bigfoot come show activity
This February time
Activity of youth, activity of age
Such activity never been before on any stage
In comes I, old Big Foot…or maybe Big old Foot…hmmm…Bigfoot not too eloquent
But Bigfoot knows these biggest feet in world (except for, maybe, elephant!)
Bigfoot hair very wild, Bigfoot back kinda hunched
Many small librarians have Bigfoot munched and crunched
Five years ago, Bigfoot come to this Archive
To find his friend St. Dr. Michael, greatest Bigfoot scholar alive
He not call Bigfoot skunk ape, or any name so crappy
Publish in book on "Manlike Monsters," make Bigfoot kinda…happy!
So now you people want to see this mighty Bigfoot scholar?
Walk in St. Michael, ArchiveAngel or you make Bigfoot Holler!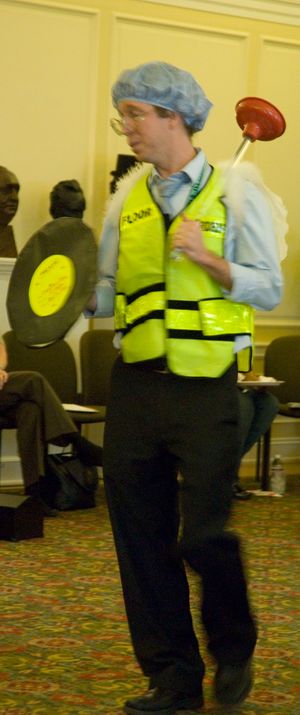 (St. Michael is wearing an emergency reflector vest; his sword is a plunger and his shield is a recording disc with "Cryptozoology Blues" on the label.)

All Cast
He comes, he comes, our gallant hero comes
Sound oh sound the trumpet,
And beat, oh beat the drums
Loud upon the shore the cannon roar
Come in St. Michael and do the archive chores

St. Michael the ArchiveAngel
In comes I, St. Michael, ArchiveAngel, noble champion bold
Who with my hands and sword did win this vest of gold
I Indexed JAF, a bloody century of the journal
Wrote articles and books with a stamina quite infernal
Is there a creature, Bigfoot or small, equal to these tasks?
Is there a creature, near or far, can challenge the deeds of my past?

Squire David
And in comes I, Squire David, Michael's "trusty little friend"
And I incline to serve Bold Michael's needs until the end!
For I have traveled everywhere, the folklore world around,
But an archivist to equal him there never has been found
Just search him out in MLA, he's parsed it up and down
From Alberta to Sasquatchistan,
Ontario to Newfoundland
He's covered all that ground!
Of all the words in Folklore's broad domain, he has command
Full 20,000 terms, or more, were entered by his hand!


St. Michael the ArchiveAngel
At the University of Northern British Columbia, at the periphery of Nowhere
Is where I first met Bigfoot, should anybody care
I bravely interviewed him, without either dread or fear,
So he followed me to Vermont, and North Carolina; and then he found me HERE
My ambition is to lose him, to sneak myself away
And find my way back north, to where the moose and the Mounties play
I approached that wizard Billington, and said, "I shall retire,"
And he said, "Not so fast, Taft, there are things I still require!"
So after mighty labours, to earn my permanent vacation
My last task is to set up the toilet of emergency evacuation!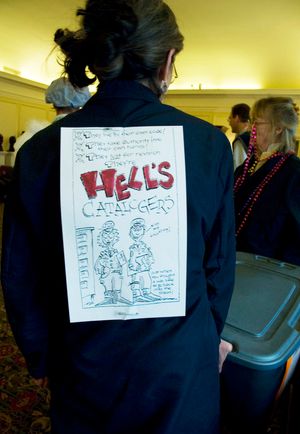 (Gestures toward the emergency toilet. St Michael and Squire David, along with the Hell's Catalogers, begin putting the toilet together.)

Bigfoot
Bigfoot like to help, but knowledge of toilets not so good
Just like bear, Bigfoot usually do business in the wood...
But what is this? Bigfoot smell some other monster near!
Smell like fire, and brimstone, or maybe red-tail deer...

Beelzebub
In comes I, Beelzebub
On my shoulder I carries a club
And in my hand a cylinder-can
Don't you think I'm a funny old man?
So make room, room, for me
And all my monstrous company.
Make room for us and all our play….
Step in Colossal Squid and boldly have your say!

(Squid is wearing a complex squid costume, including arms hanging from the actor's waist, tentacle pads on her hands, and a fin on her head. The squid's large eyes are on the actor's buttocks.)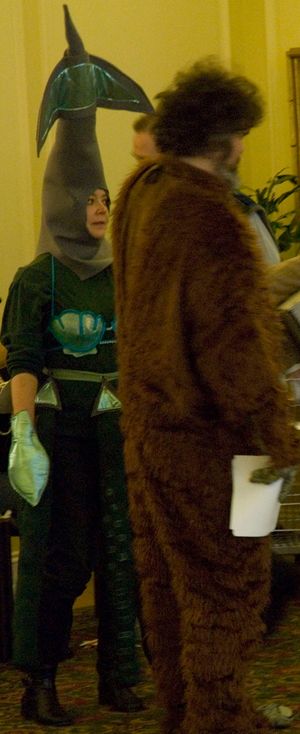 Squid
I am a cephalopod, or "head on feet"
I want an archivist for to eat!
"Abyssal gigantism" explains my mighty size
And of all the animal kingdom, I have the largest eyes. (Points to eyes/buttocks.)
Okay, I know...that's TMI...the necessary information
Is that I really can't stand toilets,
Which explains my motivation.
Now I'll fight St. Michael the ArchiveAngel
I'll slap him with these slappers (waves tentacles)
And pluck his heart out with my beak
To stop him building crappers!

St. Michael
Avast ye, squid, how you'll be sorry!
When I slice you into calamari


(They fight spectacularly, and St. Michael kills the Squid with his plunger.)



Bigfoot
Hmm…St. Michael kill beast once thought to be mythical
But later determined to be real!
Bigfoot not sure this is ethical…
Bigfoot not sure HOW Bigfoot feel!

St. Michael
I have more facets than the arms of that beast!
And now I can invite you all to a calamari feast!

Beelzebub
There are others to fight, or so I say,
Step in, Ethnosaurus, and show the way!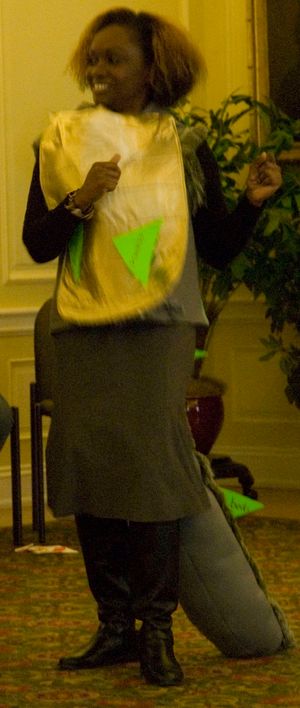 (The Ethnosaurus resembles a dinosaur or dragon, but has words pinned to her.)

Ethnosaurus
I am the Ethnosaurus,
A frightening foe I am
A nightmare of nomenclature
That can swallow any man
Under "health-body-anatomy-legs-feet,"
You will find my claws
And under "health-body-anatomy-head,"
You will find my jaws!
Is any man so brave and proud
That he would seek the Ethnosaurus's blood?

Saint Michael
As you all will know by now,
I'm a man of courage bold
And I shall slay that Ethnosaurus,
Before the day grows cold
I remember something my momma said, when giving me a clout
I brought you into this old world, now watch me take you out!


Ethnosaurus
If I catch you with my claws,
Long teeth and harried jaws,
I will break off your core
And increase my appetite for more.
Knowledge from your brains I'll squeeze,
And suck your time up by degrees.

St. Michael

I'm so done with you, Ethnosaur
You can't hurt me anymore!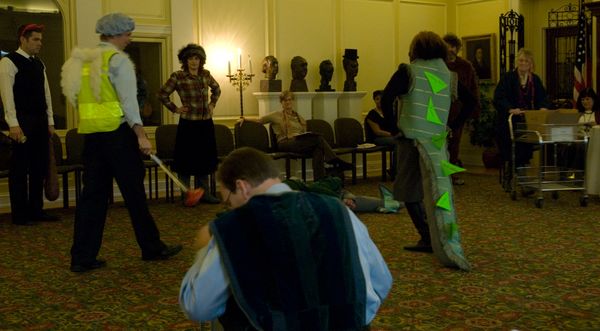 [With the help of Hell's Catalogers, the Ethnosaurus emits a ream of loose papers, which hit St. Michael and knock him down. The Ethnosaurus then sits on St. Michael.]

St. Michael
Oh, the intellectual weight!

[St. Michael dies; Mummers seem horrified.]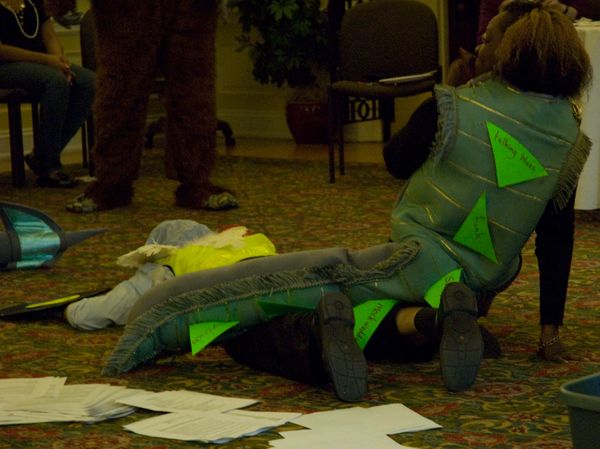 Beelzebub

HA! This angel's dead, he's dead I say
And now I gets to take him away!

Bigfoot
Not so fast, little Bizzly-boo
Bigfoot think maybe we help these two
Maybe there Doctor around this archive
Can make these two dead folks alive?

All
Doctor? Doctor!

Doctor
Here I am, good Doctor Shaffer
I cure disease with my magic wafer!

Bass Ackwards
How came you to be a doctor?

Doctor (holds up map)
By my travels.

Beelzebub
Where have you traveled?

Doctor (gestures on map)
Sasquatchistan, Canuckistan, Pouteenieville and more
From the Avalon Peninsula, to the frozen Yukon shore

Bass Ackwards
Hmmm…what can you cure?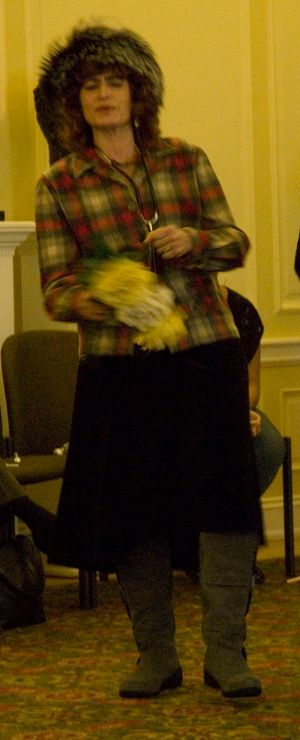 Doctor (throwing candy on each downbeat)
I can cure the Blues, the snooze, the tall tales and the short
The formulaic frazzles and the scoffs-and-mounties snort
Transvestite Trembles, Mock Wedding Wheezes
Blues Lyric Poetry freezes
And all other vandorious diseases

Bigfoot
Okay, but Bigfoot pretty sure you not cure man who's DEAD for five minutes!


Doctor
If he's been dead five YEARS I can cure him!

(Produces bottle from doctor's bag)

I have a bottle I bought in Montreal
Will bring this dead man back to life in no time at all!

(Steps over dead St. Michael, bends down and gives him a sip)

Now, if'n you are not quite slain
Rise Up, St. Michael the ArchiveAngel, to fight again!

[St. Michael springs up, looking surprised.
The mummers start the audience clapping.]

Bigfoot
And what will this poor Squiddly do?
Bigfoot want to cure her too!

[Doctor approaches squid.]

Doctor
Here, Big Eye, have a sip of my nip-nap

[Doctor gives squid a sip. Squid grabs Doctor's hand and pulls the bottle back for a longer sip, with a loud sucking sound. Squid Revives—Mummers applaud and cheer]

Bass-Ackwards
Hmm, they're much as they were at the start of the play
So…nothing has happened this long winter's day.
And if you don't believe this lie is true,
Tell us, Squire David, what's left to do?

Squire David
While around you losers have been screwing,
I diligently have been doing
The task St. Michael needed done
The toilet's fixed, and he has won!
So St. Michael can retire
And another archivist we'll hire…

But in case you haven't heard,
It's not my problem anymore...
I'm off for greener pastures
In the fabled land "Sixth Floor!"

Squid
Before you go, Squire David…while on you have been carrying
Bigfoot and I have begun to talk of marrying
In fact, he has proposed to me, and the thing at which I'm getting
Is that we would very much appreciate if you'd officiate the wedding!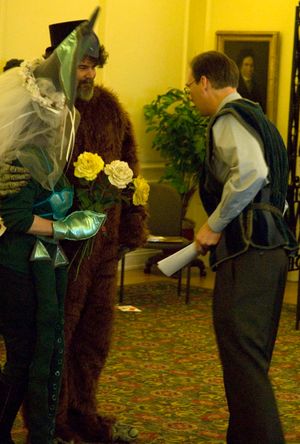 Squire David
Very well, very well…now take your places

Ahem! Clearly Befuddled, we have blathered here this day
To join skunk-ape and squid in unholy matrimony.

Big-Eye, will you take Bigfoot
To be your awful, wedded Hubby
Despite the fact that he is so furry, and so tubby?
And do you further vow to black his eyes and punch his nose
To box his ears and pull his hair and stamp on his giant toes . . .
To drink his beer and spend his dough
And make his life a tale of woe?

Squid
I do

Squire David
Bigfoot, do you vow to take Big-Eye Squid
To be your awful, wedded wife
To be your only cuttlefish
All the days of your life?
And further, do you vow to wash the clothes and scrub the floor
Forego all fun forevermore
To wash the dishes and make the bed
And wish to heck that you were dead?

Bigfoot
Bigfoot do!

Squire David
Fine, I now pronounce you Squid and Thing! You may kiss the bride, if you dare!

(Bigfoot and Squid play pat-a-cake with their hands.)

Bigfoot
Bigfoot hope you all impressed,
Think St. Michael and Squire David are the best!
Even these big feet, not able to fill THEIR shoes,
In fact, these guys leaving, it kinda give Bigfoot the blues.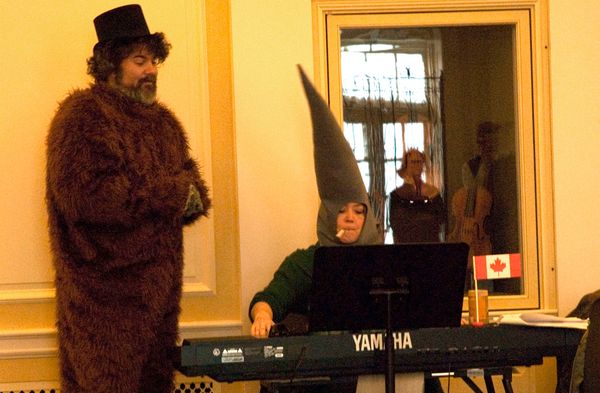 Song: Cryptozoology Blues

I woke up this morning, Bigfoot round my bed
I woke up this morning, Bigfoot round my bed
My baby done left me, for a small mammalian quadruped

Got that ol' Jersey Devil hoverin' round my door
Got that ol' Jersey Devil just a-hoverin' round my door
Swum with Ogopogo till I couldn't swim no more.

That Old Chupacabra, he gets my goat each day
That Old Chupacabra, he gets my goat each day
And what he does to it, well, I can't rightly say.

So come on everybody get the cryptozoology blues
Come on everybody get the cryptozoology blues
Come boogie with Bigfoot, and bring your biggest dancing shoes!

In the interests of covering our behinds, we will state here for the record that this is a parody. The Newfoundland-and-Saskatchewan Squid-and-Bigfoot Mummers Play and Mock Wedding was in fact written by Stephen Winick, with contributions from the cast, especially Maggie Kruesi, Thea Austen, Bert Lyons, and Valda Morris.  [Back to Top]