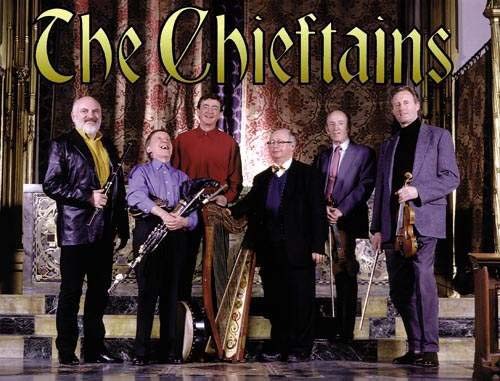 Paddy Moloney, the piper, composer, arranger and spokesman for the Chieftains, is fond of dropping names. In our 1998 interview, he was talking about his upcoming album, Tears of Stone, and he couldn't stop himself from digressing. "The last track to go down was dear Joan Osborne, who did the most moving version of 'Raglan Road.' We actually sang it at the Pavarotti tribute concert before the Grammys, which had Aretha Franklin and Pavarotti and Sting and Boyz 2 Men, and ourselves, and herself. It was a wonderful showcase, the first time to do it, you know?"

Moloney's love of celebrities is not off-putting in person. On the contrary, he seems like an excited kid, who can't believe the folks he's had the good fortune to meet. Talking about Tears of Stone, an album on which the Chieftains are joined by women singers and musicians, quickly becomes a list of all the cool people he's worked with on the project. "I've got 10 songs on that album, so far. I've even co-written a song with a Tibetan girl, and likewise with Akiko Yano, a very famous Japanese singer. It has Loreena McKennitt, Sinead O'Connor, Joan Osborne, the Rankin Family, and the Corrs, and Sissel, and Joni Mitchell has promised me a track. I've spoken to Sarah McLachlan. And Paula Cole, and Sheryl Crow. Not getting away from the music of course, I have a track on it called 'lady fiddlers.' So Eileen Ivers from the U.S., and Annbjorg Lien from Norway, and Maire Breathnach from Ireland, and Natalie MacMaster from Canada. I'm working on a few more tracks, and it will be out later on this year."

Moloney would never be in a position to rub shoulders with the pop glitterati or the top names in world music if it were not for years of struggle, years of toil, years devoted to putting traditional Irish music on the map. There is no doubt that the Chieftains were the first group to achieve that goal. In the late 1950s, years before any Irish group had seen fit to really arrange a jig or a reel, Moloney started to think along the lines of the Chieftains. An uillean piper trained by the great Leo Rowsome, Moloney played pipes and whistle in all kinds of bands, searching for a sound that existed only in his head.

In about 1960, Moloney met Séan Ó Riada, a composer whose film score for Mise Eire used Irish traditional melodies arranged for orchestra. Then musical director of the Abbey Theatre, Ó Riada was building what he saw as a small chamber orchestra for folk music, to play in a production called The Golden Folk. Ó Riada invited Moloney along, and Moloney suggested some of his musical friends: whistle player Séan Potts, flute and concertina player Michael Tubridy, and eventually percussionist Peadar Mercier. The orchestra from The Golden Folk soon developed into a permanent ensemble, named Ceoltóirí Cualann.

Experts on Irish music tend to see the Chieftains as an extension or a continuation of Ceoltóirí Cualann. But Moloney feels that the Chieftains don't get the credit they deserve. He said he could understand the impression that Ceoltóirí Cualann spawned the Chieftains; it was an impression Ó Riada himself shared, and, after all, Ceoltóirí Cualann featured virtually all of the original Chieftains. But, as Moloney pointed out, many of them joined up with Moloney first, and were then hired by Ó Riada.

In Moloney's account, the seeds of the Chieftains were sown much earlier, in the early 1950s, when Ó Riada "was still John Reidy, a piano player in Paris playing jazz!" In the 1950s, Moloney recounted, "people were into bad Country and Western music. And the folk music really had suffered. When we were walking around Dublin with pipes and fiddles under our arms we were getting a dreadful slagging from our schoolmates because to play that sort of music was not hip." However, many old people still played traditional music, in their houses and away from any organized music scene. "When they saw a young person, such as myself, coming on the scene with a deep love for it," he explained, "I got Rolls Royce treatment from these old musicians. I just loved it!"

One turning point for the traditional music scene was the first festival of music in 1951, the fleadh cheoil. "There were 200 people went to Mullingar, including myself and 15 other young pipers," Moloney remembered, "and there was competition. It was a tremendous sort of awakening, getting out of the house, bringing your music out there, and don't be shy about it." (Moloney didn't mention this, but he came in second that year.)

Moloney also recalled the importance of radio to the Irish music renaissance. "The whole thing started when there was a radio program came on, with Séan Mac Réamoinn, once a week. He went out into the country and recorded music. That started to awaken people, bring them out of themselves to say, 'Look, our music is as good as any!' And all of a sudden, there were more festivals happening, there were more competitions starting, so it all started to flourish in a big way into the 50s. I remember going into a competition where there were 26 duets entered. And another year with Barney McKenna and Tony MacMahon." (This time he mentioned the results: "I won both times!")

It was here that the idea of the Chieftains was born, Moloney insisted, not in his later association with Ó Riada. It was his duets with people like future Dubliner McKenna and Bothy Band founder MacMahon, and the two ceili bands that he belonged to, that precipitated his search for innovative arrangements of Irish music: "I had a singer, and I had a young guy playing a guitar with a sort of Spanish guitar feel to it, different ideas of harmonies, almost jazz-like." There was even the skiffle trio The Three Squares, in which Moloney "used to play reels and jigs in the middle of a set of Lonnie Donegan music!"

In the same period, Moloney met and began playing with original Chieftains Potts and Tubridy, and he had a regular duet with future Chieftain Matt Molloy. He began to include improvisation, harmonies and counter-melodies into his music, all innovations usually attributed to Ó Riada. "All that was already happening," he insists. "I was already getting on my way to having a Chieftains band. And Ó Riada knew I was doing that. We talked about it long before Ceoltóirí Cualann." So, far from Moloney's inspiration coming entirely from Ó Riada, the two men influenced and affected one another, "two forces working alongside," as Moloney put it.

While he feels that Ó Riada got too much of the credit for the innovations that the two of them worked out separately and together, Moloney does not deny the influence that Ó Riada had on the Chieftains and their music. "What I gave [to Ó Riada] I gained back in a huge way from his musical expertise. We used to meet every Monday night in Dublin when he was in the Abbey Theatre. We'd meet in the pub across the road, and we used to go over tunes together. All of it was to the good, and Sean was to the good, and it all flourished, and thank God it happened!" Their relationship was a complex and rewarding one, and although he acknowledged there was a touch of rivalry between them, Moloney still exclaimed, "I loved the guy!"

Whatever the genesis of the Chieftains' ideas, it was the 1963 record The Chieftains, suggested by Claddagh Records executive Garech Browne, that "actually put the name The Chieftains on the band." For the recording, Moloney invited a hand-picked group of players, including Tubridy, Potts, fiddler Martin Fay and bodhrán player David Fallon. The release immediately established the novelty of their approach; Moloney had arranged Irish traditional tunes with meticulous attention to detail. The alternation of solos and group playing, with rich harmonies, counter-melodies, drones and rhythm instruments flitting into and around the melodies, is clearly an embryonic version of the full Chieftains sound of today.

From their beginning as a one-off recording project, the Chieftains branched out. They first became a part-time band (with Peadar Mercier replacing Fallon), and played concerts and radio and TV appearances whenever they could fit performing around their day jobs. This could be a challenge, since almost all of the Chieftains had civil-service or managerial positions in Dublin, and families they had to support. Soon they had progressed to playing summer festivals, again when their schedules were flexible enough. During one period, Martin Fay and Séan Potts walked out on the band due to a more lucrative contract from another record company. Moloney recruited Séan Keane, one of the fiddlers from Ceoltóirí Cualann, to replace Fay. When Fay and Potts returned to the Chieftains, they kept Keane in the band as well.

During the 60s, a buzz developed about the Chieftains due to early and well-placed fans. Browne, the head of Claddagh Records, was also heir to the Guinness fortune, and his lifestyle included hobnobbing with the rich and famous; through him, the Chieftains met Marianne Faithfull and the Rolling Stones. John Peel, the most influential DJ in Britain, was another early fan, and the Chieftains often appeared on his radio programs and met stars through him. Peel also got the Chieftains a gig opening for Matthews' Southern Comfort, which brought their music to a new audience entirely. By 1968, they were getting mentioned in mainstream pop music press outlets such as Melody Maker, despite the fact that they had only one five-year old album and played their music wearing suits and sitting in chairs.

The popularity of the Chieftains was growing, and it seemed high time to move on to a more regular schedule of recordings. Their second album was recorded in 1969. The band flew to Edinburgh to take advantage of the superior studio technology available in Scotland; because of their day jobs, they recorded the whole album in a weekend and were back to work on Monday. But Moloney, whose job then was as manager of Claddagh Records, stayed on to mix the disc. Unfortunately, the first acetates were a major disappointment; as he told biographer John Glatt, "the whole thing sounded terrible and I hated it." Convinced that it was a production problem, he sought help from EMI, then Claddagh's distributor. EMI's response was to call up the Beatles, who were ensconced at Abbey Road Studios recording Abbey Road, and get them to give a half-day of studio time to Moloney. While cutting the new acetate, Moloney met Paul McCartney, who he said "knew all about the Chieftains' music and liked it!"

The Chieftains 2 was another success, and the band's popularity kept growing. From the late 1960s to the early 1970s they opened for top folk-rock acts like Fairport Convention, played the major folk festivals, and performed their first concert in America, all without giving up their day jobs. In New York their fans included John Lennon and Yoko Ono. In Ireland they still worked for the post office. As Keane later commented, "It was ridiculous. I was up a telegraph pole hanging lines the day after I got back from New York."

In 1971, the band recorded The Chieftains 3, another successful album of traditional music, this time including lilting from the singer Pat Kilduff. But the Chieftains' sound was still incomplete; something was still missing. Moloney found out what it was on a trip to Belfast. There they met Derek Bell, harpist for the Belfast Symphony Orchestra, a strange little man wearing raggedy clothes despite the fact that he was on stage with a formal orchestra. "You can get away with these things when you're a genius," Moloney explained. But it was Bell's playing, more than his clothes, that made him an instant hit with the Chieftains. As Moloney told Glatt, "when we met Derek I finally heard the full strength of the music that had been in my head for so long."

Once the Chieftains' sound was complete, there was nowhere to go but up; and up they went, to a set of new contracts, a fourth album, and a professional career. In 1975, Moloney took a trip to Cannes for MIDEM, a music industry trade show and meat market, where he found himself courted by manager Jo Lustig. At the time Lustig was the king of folk-rock, managing such acts as Fairport Convention, Steeleye Span and Pentangle, and he was convinced he could make the Chieftains just as big. Through February and March, Lustig tried to convince a wary Moloney that the band could make it as a full-time professional touring ensemble. Finally, he convinced Moloney to allow him to book one gig, for St. Patrick's Day. He booked the Royal Albert Hall, a 6,000 seat landmark arena in London. When Moloney expressed doubts, Lustig made a bet with him: If Lustig could sell out the Albert Hall concert, Moloney and the Chieftains would go pro. If not, they would remain amateur musicians with government jobs.

The Albert Hall concert, on March 17, 1975, was perhaps the turning point in the Chieftains' career. Not only was Lustig able to capitalize on the group's reputation and sell out the hall, but both the critics and the audience went wild for the Chieftains'music. It was the first time traditional Irish music had been played in such a prestigious venue, for such a large audience, and the effect was staggering for the band members. Suddenly they were conscious of being the carriers of an important musical tradition and one that could compete in the music marketplace. Potts summed it up the best when he told John Glatt, "It was the greatest thrill of my life. To hear 6,000 people applauding a couple of reels and jigs was amazing."

One of the people who crammed into the Albert Hall for the Chieftains' concert was Chris Blackwell, boss of the important Island Records label, and he signed the band away from Claddagh, much to Garech Browne's consternation. The new album, The Chieftains 5, consequently had a far higher profile and better promotion than any previous Chieftains release; it also featured a very handsome gatefold sleeve. In its first week out, it sold 12,000 copies in Britain; this was not a lot by pop standards, but it was staggering for Irish music. Musically, The Chieftains 5 sounds like a refinement and an intensification of the principles Moloney used on earlier Chieftains records: more soloing, more counterpoint, more of the full-bodied, stately, classically arranged sound that is the Chieftains' hallmark today.

Lustig had won his bet, and the Chieftains went professional in 1975. Some quit their day jobs, others hedged their bets by taking as long a leave of absence as possible. Following another concert at the Albert Hall, a tour of North America, and participation in the soundtrack to Stanley Kubrick's film Barry Lyndon, the Chieftains finished 1975 on a high note, by being named Melody Maker's group of the year, an honor they earned "for making unfashionable music fashionable."

Despite their triumphant year in 1975, the following year the band began to fragment. First Peadar Mercier decided to retire, and Moloney replaced him with Kevin Conneff, a bodhrán player and a brilliant singer whom he'd noticed some years before. Soon after that, Lustig resigned as the band's manager, frustrated at having to deal with middle-aged men who didn't want to leave their families for over three weeks at a time. This also entailed a change from Island Records to CBS. These pressures, coupled with that of touring the world for the first time, began to take their toll, and despite maintaining their level of success with the last Island albums, Bonaparte's Retreat and The Chieftains Live, the band seemed about to break up — with Keane, Potts, Conneff and Tubridy vowing to leave — by the end of 1976.

It was through force of will and a willingness to compromise that Moloney held the Chieftains together — force of will in persuading each individual Chieftain to give it one more go, and a willingness to compromise in allowing them each more input into the band's CBS debut, The Chieftains 7. Because each Chieftain had a degree of personal input, the album is less structured and organized than any of the group's previous work. It is also more spontaneous, and one of the band's best albums ever for fans interested in hearing the sheer joy of music. This exploratory and spontaneous sound continued through the band's period with CBS, during which they released The Chieftains 8, Boil the Breakfast Early, and The Chieftains 10, as well as various soundtrack projects.

The growing tension within the band that Moloney had staved off in 1976 soon resurfaced. Both Tubridy and Potts had grown to hate the experience of touring. For Tubridy, a touring life meant very little time to prepare musically, but a lot of reputations riding on the result. He found himself facing stage fright. For Potts, touring was exhausting, and a bout with terrible storms over Atlantic Canada turned his already palpable distrust of flying into fear. Both left the band in 1979. For Moloney, this was a personal blow, as Tubridy and Potts were his original best friends whom he'd wanted in the band from the very start. Still, he remained philosophical. While he certainly missed his friends, he was able to console himself with the idea that "a change can be very healthy."

Trawling for a flute player to replace Tubridy, Moloney soon became aware that his old friend and musical partner from the early 1960s, Matt Molloy, was available. Since his days at the old Sheiling, where he and Moloney played together, Molloy had taken a different course. He had joined the Bothy Band, an acoustic folk band that acted, played and lived like rock and rollers. The hard-drinking, hard-working lifestyle landed Molloy in a TB ward with plenty of time to think about his future. Upon recovering, he joined the Bothies again for a brief spell, and then was asked to join the re-formed folk band Planxty. The Chieftains was thus the third highly successful and acclaimed traditional band to ask Molloy to join. At first Moloney just asked him to guest on one tour; since he had always respected Moloney and the Chieftains, and was also a fan of Séan Keane's playing, his decision was quick and easy. "Nobody had to twist my arm to play with those people," he said. Then he was asked to join up full-time, and with similar promptness accepted the invitation.

The Chieftains have maintained the same line-up since Molloy joined in 1979. But they haven't stagnated. The 1980s and 1990s have brought a set of new directions for the Chieftains. First of all, they continued their work on soundtracks, producing music for the TV series The Year of the French, the feature film The Grey Fox, and the documentary The Ballad of the Irish Horse. This trajectory was recently continued with Moloney's year-long involvement in the soundtrack to the TV documentary mini-series The Irish in America: Long Journey Home. The series attempts to tell the story of Irish immigration to the U.S., and Moloney's album does the same thing in a more limited way. With tracks from such singers as Mary Black, Sinéad O'Connor, Elvis Costello and Liam O'Maonlai, as well as incidental music from the Irish Film Orchestra, The Long Journey Home is part score and part soundtrack, part traditional and part pop. Although the Chieftains as a band appear on only two tracks, their presence and their approach looms large on the album.

In addition to soundtracks, the Chieftains began to collaborate with musicians from other countries. The first of these projects came about in 1983, when Moloney turned a personal ambition to visit China into what amounted to a great publicity campaign. "Think about it," he told Glatt. "First band in the west ever to go. Big government thing. Make an album. Big spin-offs. Make a video that's been shown twice a year on BBC ever since. It's the biggest publicity campaign that you can ever do. I mean you'd pay thousands for it." The result was a fascinating experience and a successful tour. It also produced an album and a video, which showed the Chieftains playing both Irish and Chinese melodies, sometimes with Chinese musicians playing along.

1987's Celtic Wedding album was a similar project featuring the music of Brittany. It was both logistically and musically simpler than The Chieftains in China, however. "The Breton album reminded me of the Chieftains 1 album that we made in '63," Moloney offered. "I gave it the same sort of treatment, just the Chieftains and a couple of Breton musicians and singers, you know just the basic tunes to get across that there's so much wonderful music there. That's the way I wanted it treated." The result was an album of immense appeal, which convinced the BMG label to sign the Chieftains up. On Santiago, Moloney took the music of Galicia and added some twists. Dozens of guest musicians playing all sorts of instruments. Basque accordion playing. Cuban Rumba. And Linda Ronstadt, singing with Los Lobos, to show the Galician connection to greater Mexico. It too is a wonderful album of traditional music and was awarded a 1996 Grammy award.

The Chieftains' latest project in this line is Fire in the Kitchen, an album that was first conceptualized as a compilation, with Moloney as producer. "On account of our association with Ashley MacIsaac," Moloney explained, "the idea for a Cape Breton album came about." MacIsaac, a brash young fiddler from Cape Breton island in Nova Scotia, has enlivened many Chieftains tours. "I even brought him to China last year," Moloney continued. "He caused a sensation! He bought himself a pair of roller skates when we were in Shanghai, and insisted on going down the center of the street, with bicycles trying to go the other way, and cars crying to go up the middle, and he caused absolute pandemonium. The Police had to tell him, 'Get off! Get back to the hotel!' "

MacIsaac's personality and verve led Moloney to investigate the rich musical tradition of Cape Breton. But the album doesn't limit itself to the island, or even to the province of Nova Scotia. "We spread our wings a little bit," Moloney explained. "So there's Great Big Sea from New¬ found¬ land, Natalie MacMaster, Leahy, artists like that. From Montreal, La Bottine Souriante, Laura Smith from Halifax. There's Mary Jane Lamond, The Barra MacNeils, and The Ennis Sisters from New¬ found¬ land."

Although it was intended as a compilation, Moloney decided to involve the Chieftains. In some cases, he took previously recorded tracks, stripped the instrumentation, and replaced the accompaniments with the Chieftains. In others, he got the Canadians in the studio with the band. "It was never intended," Moloney said, "but it's almost like The Chieftains in Canada. It's almost like a Chieftains album."

The Long Journey Home, with its collaborations with various pop stars, Santiago, with its appearances by Ronstadt and Los Lobos, and Fire in the Kitchen, with appearances by well-known Canadian acts like MacIsaac and Great Big Sea, are indicative of the Chieftains' other direction in the 1980s and 1990s: collaborating with celebrities. They have worked with classical flautist James Galway on two albums, In Ireland and Over the Sea to Skye. Most importantly, perhaps, their 1988 album with Van Morrison, Celtic Heartbeat, opened the floodgates for collaborations with pop and country stars. On albums such as The Bells of Dublin, Another Country, An Irish Evening and The Long Black Veil, they invited such performers as Jackson Browne, Marianne Faithfull, Mick Jagger, Mark Knopfler, Emmylou Harris and Tom Jones to play and sing with them.

Out of all of these albums, The Long Black Veil was the one that surprised Moloney the most. An album that teams the Chieftains up with pop stars singing both Irish and pop material, it seemed to be just another entry in a genre that had reached a plateau. "I had totally discounted The Long Black Veil as one that would break through," Moloney elaborates. "I thought it would be 'The Chieftains and Friends,' y'know, a great album, but nothing compared to what happened. Because we'd had our great innings, we'd had our page in Time magazine and Newsweek, it had all been happening for us before The Long Black Veil came on the scene, and we'd already picked up three Grammys before that happened." Still, what he thought would be just another Chieftains and Friends release, like The Bells of Dublin and Another Country, turned out to be their biggest success yet, winning them a Grammy for "Best Pop Collaboration," Album of the Year from Time magazine and the New York Post, four-star reviews from practically everyone, and gold or platinum records in five countries.

On the other hand, the Chieftains were disappointed in the reaction to their previous collaboration project, Another Country. This one teamed them up with famous country and western stars like Vince Gill, Willie Nelson, Chet Atkins and Ry Cooder. The problem, Moloney thinks, is in how it was marketed. "It didn't get a fair crack of the whip. They didn't put into the mainstream country, and it sort of got lost in the traditional side," he complained. But he cheered up quickly, noting, "It won two Grammys, all right."

All this pop collaboration is well and good. But there's a joke in Irish music circles: "You remember the Chieftains, don't you? They used to play Irish music." To a certain extent the implied criticism in the remark is valid, and everyone in the band knows it. 1993's The Celtic Harp, while a beautiful album, is really documenting the separate but parallel tradition of Irish harp music, rather than the vibrant dance music common to pipers, fiddlers and fluters. Before that, you need to go back to 1989's A Chieftains Celebration for an album of traditional Irish music without the pop trappings. Likewise, the Chieftains' concerts are liable to feature guest artists from around the world, from different musical traditions including classical, pop and folk. Rarely do we see the Chief¬ tains playing Irish music, with no distractions or dilutions.

Moloney tries to answer the critics: "We have 24 albums out there, and most of them are out-and-out traditional albums. The other project albums started... the odd one popped in here and there since 1986. But these are projects... the world has opened up to music, and it's great to get out there and do it, you know, why not? It's proven very successful. And as you hear in our concerts, everyone's doing a flying solo, and that couldn't be any more traditional. Sure we throw in maybe 20 percent of Galician music and a little bit of 'Satisfaction' from the Rolling Stones in the middle of 'The Rocky Road to Dublin!' "

Moloney's remarks notwithstanding, several band members, including Molloy, are itching to record another album of traditional Irish music, and Moloney was forced to admit that they've drifted just a wee bit from their center. Which is why he was glad to tell me about his latest decision. "Our next album to come is going to be an all-out, Chieftains only, back to square one again," he said. A sop to the critics or to his disgruntled bandmates? Not at all. "I'm feeling the need for that myself," Moloney said.

It's time for a recharge before he storms the world again.