Gabriel & Marie Yacoub
Pierre de Grenoble
Boucherie Productions BP3183

by Steve Winick

[From Dirty Linen #68 February/March 1997]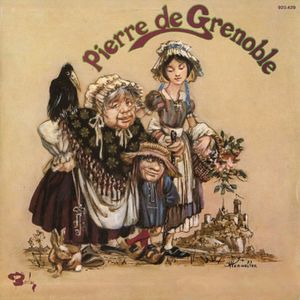 Gabriel Yacoub, for all that he has done as a solo artist, is still best known and remembered for his pioneering work with the group Malicorne, who played electric folk music from France. But before Malicorne, Yacoub and his wife Marie had already set out the beginnings of French folk-rock on their debut recording, Pierre de Grenoble, which is now available on CD. They came to the point of making this album after several years as musicians with Alan Stivell's band, which was performing similar experiments with Breton music. Partly because of Yacoub's exotic-sounding surname, and largely because of his link with Stivell, the misconception persists to this day that he is Breton, and that his move to French music in the early 1970s constituted a betrayal of his own heritage. In fact, he is not Breton but Parisian, and his unusual surname is due to Lebanese, not Celtic, ancestry. By 1973, he and Marie had begun to feel the need to express their own ideas in their own language and musical idiom, and a new world opened to them. They became not only the primary interpreters of French traditional music, but also spokespeople for cultural intervention and the revival of folk music; as one note on this album puts it: "There are not many hurdy-gurdy players left in the Vallée Noire, and their hair is white. We'd better hurry!"

Pierre de Grenoble is the result of the Yacoubs' first foray into French traditional songs and music. They gathered around themselves a small cadre of instrumentalists to support Gabriel's acoustic guitar, bouzouki, banjo and psaltery and Marie's dulcimer and guitar. Most notable among Pierre de Grenoble's sidemen is Dan Ar Braz, the brilliant electric guitarist from Brittany who had played with the Yacoubs in Stivell's band and who later guested on one of Malicorne's albums. Also important to the sound were Gérard Lavigne, whose loping basslines support the structure of many of the tunes, and violinist Marc Rapillard, who leads some tunes and plays some tracks completely solo. Special mention should be made of Christian Gour'han, whose strong, rhythmic hurdy-gurdy playing is crucial to the album's sound; the CD reissue is dedicated to Gour'han, who died in 1987.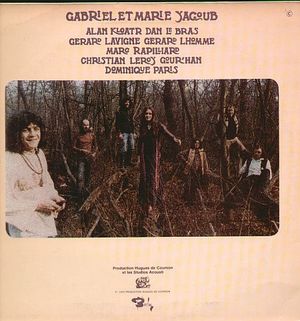 The songs and tunes the Yacoubs chose for this record come from the oral traditions of the Francophone areas of France. The songs include fine old ballads of knights and ladies as well as pastoral peasant love songs. The instrumentals are mostly rural dance tunes and airs. In other words, this is "folk music" in the classic sense. The mostly acoustic sound that would characterize early Malicorne albums was already in evidence on this LP, particularly in the use of crumhorns, psaltery and other renaissance instruments alongside of contemporary folk and rock instrumentation. The drone and wail of bagpipes and hurdy-gurdy, along with Yacoub's drone-rich guitar playing, make most of the tracks dense and complex in sound. At many points, it is possible to believe that you're hearing a "lost" album of Malicorne, particularly since such songs as "Pierre de Grenoble" and "Le Prince d'Orange" were featured in Malicorne's live shows. All the tracks are excellent, and the album bears repeated listening very well. In addition, the notes on each song are interesting, though sparse, raising very gently such issues as the need for cultural revival in 1970s France and the political problems in 1970s Brittany. Full lyrics to each song are also included in the booklet.

The only quibble I have with the CD is with the mixing. Apparently, the Yacoubs and their crew were inexperienced in the arts of stereo mixing, and the overall sound suffers. On several tracks, the voice is confined to one channel, the instruments to the other; this sounds relatively reasonable through a good set of speakers, but bizarre through headphones. I wonder why this wasn't remedied by those who remastered this for CD. In any case, the album is still very much worth having, a treasure from early in the French folk revival.